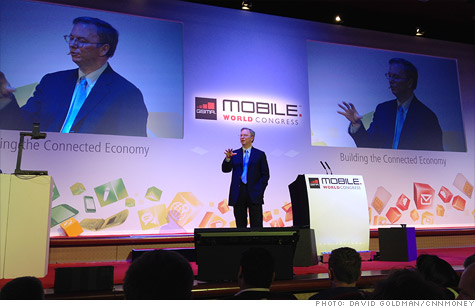 Google Chairman Eric Schmidt gave the keynote address at Mobile World Congress in Barcelona, Spain, on Tuesday.
BARCELONA, Spain (CNNMoney) -- Advancements in Internet technology are creating a new digital divide that threatens to widen the gap between the world's rich and poor, Google (GOOG, Fortune 500) Chairman Eric Schmidt said in his annual Mobile World Congress keynote address on Tuesday.
Schmidt painted a picture in which those lucky enough to have a broadband Internet connection, computers and mobile devices will be able to take advantage of transformational new technologies coming in the next decade.
He said that the not-too-distant future will bring us driverless cars, robot proxies that will attend PTA meetings for you, and ultra-fast Internet connections so speedy that video will be replaced by 3-D holograms.
The poor will gain access to better technologies in the next 10 years as well, as gadgets and connectivity become more affordable and widespread. But their advancements will pale in comparison to that of the world's rich.
"We need to act now to avoid the digital caste system I'm talking about," Schmidt said. "We can create a global network of equals."
The good news, Schmidt argued, is that the number of connected poor people will grow dramatically over the next decade. Low-end smartphones are rapidly decreasing in price, getting down to the $70 range, which is an inflection point for many regions of the world. When they get down to about $20, Schmidt believes smartphones will be in "literally every pocket."
The problem is building out networks in far off, remote regions, where there is little ability or incentive for carriers to broadcast their signal.
But Schmidt promoted the idea of a stepping stone as the world figures out how to connect the very poor to the Internet. He said that "mesh networks" -- small groups of devices connected to one another but not the Internet -- are a way to at least get remote communities together. Mesh networks can serve as a kind of "digital watering hole," where small communities can work out important issues.
"No one is saying technology will suddenly change the world's social structure, but connectivity changes lives," Schmidt said.
A lively Google chat
Following his remarks, Schmidt offered some fascinating answers to a slew of great questions from the audience.
Despite Google's pending acquisition of Motorola Mobility (MMI), its devotion to the Android operating system, its building out of a fiber-optic network, and its Google Voice Internet phone application, Schmidt said the company has no ambitions to connect the dots and become a wireless carrier, because the financials don't seem to make sense.
"It's very hard to become a telecom provider right now," he said. "Telecoms face governments regulating them to death and charging them incredible amounts of money for bandwidth. There are huge capital investments that have to be made, and then you have these nasty customers busy using up enormous amounts of the bandwidth that's so precious to you."
Schmidt also revealed that Google wanted to create a rival to Internet peer to peer currency Bitcoin. The company planned to call it "Google Bucks." Though Schmidt said peer to peer currencies like Bitcoin are "a great idea," Google Bucks never got off the ground because these currencies are illegal in many countries.
Also on the theme of things that are against the law, an Iranian asked Schmidt why Google blocks customers in Iran from downloading Google software like Chrome or Google Earth. After responding that it was due to U.S. sanctions on Iran, the questioner asked Schmidt why he didn't do anything about that.
"I'm with you, but in prison, there's no bandwidth," Schmidt quipped.