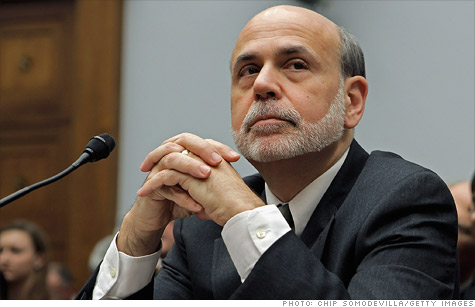 Federal Reserve Chairman Ben Bernanke testifies before Congress Wednesday, noting the job market remains 'far from normal.'
NEW YORK (CNNMoney) -- Federal Reserve Chairman Ben Bernanke headed to Capitol Hill Wednesday to give Congress his semi-annual report on the economy, and what he had to say wasn't exactly rosy.
The job market remains "far from normal," household income is flat and access to credit remains too tight for many people, he said. Meanwhile, rising gas prices are likely to reduce consumer buying power and the housing market remains a drag.
All things considered, the central bank is likely to keep monetary policy loose for the foreseeable future.
At its last meeting in January, the Fed signaled that it plans to keep interest rates near record lows until the end of 2014 to help stimulate the economy.
While that policy came under fire from House Republicans Wednesday, Bernanke stuck to his guns and fired back.
"It's arguable that interest rates are too high, that they're being constrained by the fact that interest rates can't go below zero." Bernanke said.
"We have an economy where demand falls far short of the capacity of the economy to produce."

When asked about the job market, Bernanke pointed to data that shows about 43% of America's unemployed workers have been so for six months or more.
"The concern in particular is that people who are out of work for six months or more will be starting to lose skills," Bernanke said. "And that's really one reason for urgency to try to get jobs created and try and bring the economy back to a more normal labor market."
The Fed's two main goals -- keeping prices stable and maximizing employment -- are collectively referred to as its dual mandate. But the central bank is currently succeeding on only one of those fronts.
Inflation, excluding energy and food, is currently around the Fed's target of 2% a year, but the unemployment rate at 8.3% is still above what the Fed considers "normal" (between 5.2% and 6%).
Many Republicans are concerned with how the Fed's stimulative policies could trigger a rapid rise in inflation and devalue the dollar. Rising gas prices, they say, could be just the start.
Rep. Ron Paul -- who often likes to wax poetic about going back to the gold standard -- held up a one-ounce silver coin.
"This ounce of silver back in 2006 would buy over four gallons of gasoline," he said. "Today, it will buy almost 11 gallons of gasoline. That's preservation of value."
Bernanke said he expects rising gas prices to be merely a temporary phenomenon, pointing to tension with Iran as the main cause.
"I don't think the Fed can do too much about price of gas," he said.
Bernanke also urged Congress to focus on cutting federal debt over the long-term, without derailing short-term growth. He warned that the economy is heading toward a "fiscal cliff," as the beginning of 2013 brings both massive spending cuts and tax increases.
"We have a number of measures, including both tax increases, the expiration of the payroll tax cut, the sequestration that comes out of the super committee negotiations," Bernanke said. "All those things are hitting on the same day basically, and that's quite a big impact."
The Federal Reserve predicts the economy will grow only 2.2% to 2.7% this year, not much faster than it grew in the second half of 2011.
On Thursday, Bernanke will also testify before the Senate Committee on Banking, Housing and Urban Affairs.