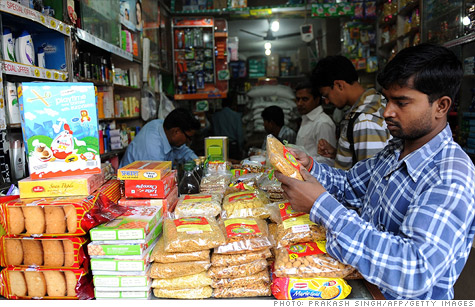 India's slow growth is raising concern about whether emerging markets can continue to lead global economic growth.
NEW YORK (CNNMoney) -- Economic growth in India slowed at the end of last year, the government reported Wednesday, raising concerns about whether emerging markets will continue to be the engine of global growth.
Gross domestic product, the broad measure of a nation's economic health, grew at an inflation-adjusted annual rate of 6.1% in the final three months of 2011, according to the report from India's Central Statistics Office. That was down from the 6.9% rate in the previous period and was below analysts' forecasts.
"Today's numbers suggest that the slowdown has been more pronounced and broader based than previously thought," said Leif Eskesen, chief economist for India at HSBC in a note Wednesday.
Eskesen said the slowdown was broad based and likely to continue in the coming quarters. While India's central bank might be tempted to cut rates in an effort to spur growth once again, its willingness to do so will be limited by inflation pressures.
India and China have been two of the major drivers of global growth in recent years, as developed economies struggle to shake off the effects of the global recession of 2009, and Europe deals with its sovereign debt crisis.
But the weakness in the developed economies has bled through to emerging nations as well. China's GDP slowed in both the third and fourth quarters last year, although its fourth-quarter growth rate of 8.9% still was very strong by western standards.
By comparison, the initial report on U.S. GDP in the fourth quarter showed an annual growth rate of 2.8%, while the combined GDP of the 17 European nations using the euro fell by 0.3% in the period.
In January, the World Bank slashed its 2012 growth forecasts for both emerging and developing economies from its estimates of only six months earlier, and warned the world is at risk of a new global recession that could be as bad as the crisis four years ago.