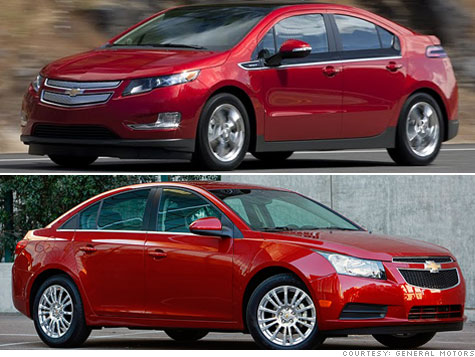 The Chevrolet Volt's biggest challenger, analysts say, has been the Chevrolet Cruze. The Cruze gets good gas milage for half the price.
NEW YORK (CNNMoney) -- Despite winning a trophy case worth of awards -- including Motor Trend Car of the Year and North American Car of the Year -- the Chevrolet Volt plug-in car has failed to meet GM's sales expectations.
The problem is simple: The car's price is simply too high for most customers to swallow, according to analysts.
GM (GM, Fortune 500) had expected to sell 10,000 Volts by the end of last year, the car's first full year on the market. Actual sales tallied up to only about 7,600.
For 2012, GM had set a goal of about 45,000 Volt sales in the United States alone. That already seems out of reach. GM sold about 600 Volts in January and just over 1,000 in February.
"We had thought they'd sell closer to 30,000," said Mike Omotoso, an industry analyst with LMC Automotive. "Now even that seems optimistic."
The automaker recently announced it was shutting down Volt production for five weeks as dealers work to sell off the cars already sitting on their lots.
While the Volt has been hampered by a number of issues, including customer confusion over its gas-and-electric technology and a government investigation into post-crash-test fires -- an investigation that ultimately vindicated the car -- analysts point to one fundamental problem that has dogged the Volt all along: its price.
"The car's a marvelous technical achievement, " said Bill Visnic, an analyst with the Web site Edmunds.com. "I don't think anyone disputes that all that much."
The Chevrolet Volt is a so-called "range-extended electric car." It can go about 35 miles on a fully charged battery before a gasoline engine generates power for further driving.
But a sticker price starting at about $40,000 made the car a tough sell, especially at Chevrolet dealerships.
"You're in BMW 3-series territory," said David Sullivan, an industry analyst with AutoPacific. "For a Chevy customer, this is really new territory."
GM spokespeople weren't immediately able to comment on the Volt's pricing.
Volt buyers do get a $7,500 tax credit, but that still works out to a price of about $32,000. And customers have wait to get that benefit. It's not like a rebate check they can put toward the price of the car right away.
"It has a rival right next to it in the Chevy Cruze that's about half the price," said Visnic.
The Volt and Cruze are based on the same "platform," or basic vehicle engineering. They're the same size, but the Cruze can seat five while the Volt can only carry four people because of its large battery pack. And the Cruze gets close to 40 miles per gallon in highway.
Customer can lease the Volt for about $350 a month. Leasing allows customers to have the car while getting the benefit of the tax credit immediately.
But even the lease payment, while relatively low for a $40,000 car, is much higher than for an ordinary Chevrolet small car. Chevrolet is currently offering leases on the Cruze for about half as much per month.
The future may hold more promise -- as well as more challenges -- for the Volt.
First, gas prices are rising, something that always increases interest in hybrid and plug-in cars. Second, thanks to some engineering changes, GM can now build Volts that are eligible for sought-after car-pool lane access in California.
That sticker alone, Visnic, accounts for much of the appeal of alternative-fuel vehicles in California.
"People who could afford six-figure cars will buy Honda Civic Natural Gas cars just so they can drive past all that traffic," he said.
The Volt's time may not really come until the car enters its second generation, said Omotoso. An all-new version, which may have a lower price and more seats, is expected in about 2015.
"The first generation of the Prius didn't do all that well, either," he said.
The Toyota Prius hybrid car, now in its third generation, has become one of Toyota's top-selling cars.
But, at the same time, competition is increasing fast as Toyota, Ford and other automakers bring out their own plug-in cars.