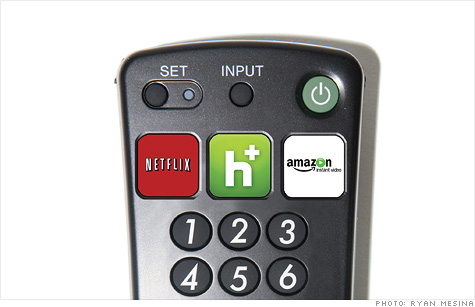 Steer clear of cable TV's $50-plus monthly bills with a combo of these Internet cable TV providers.
(MONEY Magazine) -- Cable TV's $50-plus monthly cost may be unavoidable for sports fans and news junkies -- but if you just want a good selection of TV and movies, try a combo of these online services.
Netflix
Who it's for: The movie buff
Typical fare: "True Grit," "The African Queen," "Downton Abbey"
Thumbs up: Get instant access to newish movies, sturdy classics, and past seasons of TV series.
Thumbs down: New movies may not be available as quickly as on DVD. Many titles in Netflix's DVD library, which costs extra to use, aren't offered at all. $8/month (streaming video only); netflix.com
Hulu Plus
Who it's for: The TV junkie
Typical fare: "The Daily Show," 37 years of "Saturday Night Live," "Smiles of a Summer Night"
Thumbs up: Catch the full current season of popular network and cable shows, along with archives of past episodes and a smattering of art-house flicks.
Thumbs down: Just as with free TV, periodic advertisements may interrupt your show. $8/month; hulu.com
Amazon
Who it's for: The impatient grazer
Typical fare: "Mrs. Doubtfire," "Glee" (Season 2), "Moneyball" ($4)
Thumbs up: Enjoy a little-known perk for paying $80 a year for Amazon Prime two-day shipping: Have instant access to shows and movies at no extra cost. Separately, get new films on pay-per-view.
Thumbs down: Selection is smaller than Netflix's. $80/year (Prime), $2-$4 (PPV); amazon.com
The hardware made easy
The simplest way to enjoy these services, once you've signed up, is to sit at your computer and stare. But you can do better.
To watch on a tablet: Just download the relevant app and sign up. Netflix and Hulu Plus work on iPads and Android tablets, while Amazon is built into a Kindle Fire.
To watch on your TV: Connect your PC by wire to your set. Buy a Roku settop box (starts at $50), which lets you send video wirelessly over a home network to your set. Or use a networked Blu-ray or videogame player, which probably has the necessary software built in.
Smart shopping
Connect on the cheap: When you're making a PC-to-TV connection, don't get roped into spending more than you need to.
To get a video signal from most new computers (and other video gadgets) to most new TVs, you'll need what's known as an HDMI cable. You can spend anywhere from $25 to $100 for a brand-name beauty -- or get the same quality link from a generic HDMI that costs $5 on Amazon.com.
Do you know a Money Hero? MONEY magazine is celebrating people, both famous and unsung, who have done extraordinary work to improve others' financial well-being. Nominate your Money Hero.