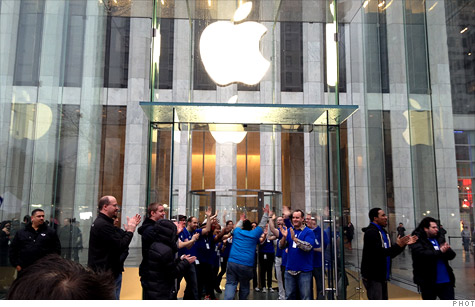 Apple's release of the iPad on March 16 was the most successful iPad launch yet.
NEW YORK (CNNMoney) -- Apple announced late Monday that it has sold more than 3 million new iPads since the new version's March 16 launch, making this the most successful launch yet for Apple's tablet.
On a conference call with analysts Monday morning, CEO Tim Cook touted the third-generation iPad's "record" weekend, without offering specifics on its sales figures.
There are few significant differences between the new iPad and the second-generation iPad 2, but that didn't stop thousands of Apple (AAPL, Fortune 500) fans from waiting hours in line to be among the first to get it Friday morning. In New York, the line at the flagship Apple Store on Fifth Avenue spanned more than a city block, and fans filled several corridors at the new Grand Central store.
The new iPad's flashiest feature is a high-pixel-count "retina display," previously available only on the iPhone. The new iPad's screen has 3.1 million pixels, one million more than a 1080p high-definition screen of that size would. It also features a faster processor and a 4G radio.
The iPad launched in the United States, Australia, Canada, France, Germany, Hong Kong, Japan, Puerto Rico, Singapore, Switzerland, and the United Kingdom on Friday. By comparison, the iPad 2 was only available in the United States last year during its launch weekend.
AT&T (T, Fortune 500) said it set a single-day iPad sales record on Friday. The new iPad will be available in 24 more countries this Friday.
Apple took in more than $20 billion in sales from the iPad last year, which means the tablet accounted for a fifth of the company's overall revenue for 2011. The iPad commands nearly 60% of the tablet market, according to NPD Group. Gartner forecasts that overall tablet sales this year will top 100 million.
That's a giant revenue stream for Apple from a device that didn't exist until two years ago.