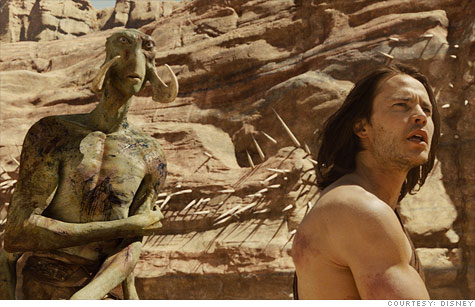 Disney projects that its movie "John Carter" will lose $200 million. In the movie, Taylor Kitsch plays the titutar human, while Willem Defoe provides the voice for his Thark friend.
NEW YORK (CNNMoney) -- It's official. The Disney movie "John Carter" is a flop of legendary proportions.
"John Carter," based on a Martian adventure novel by Edgar Rice Burroughs, is expected to lose $200 million in Disney's fiscal second quarter, which ends March 31.
The swords-and-loin-cloths epic, a blend of sci-fi and fantasy, has raked in $184 million at box offices globally since its March 9 debut, according to Disney (DIS, Fortune 500).
The loss of $200 million was much higher than anyone expected, said Nomura analyst Michael Nathanson, including him. He had forecast the film would lose $90 million.
But the impact of "John Carter" on the overall company will be limited, he said. "We believe that the charges at the Studio segment [related to "John Carter"] are not indicative of the overall health of the company's core business - namely the Media Networks and Parks," Nathanson wrote in a note to clients.
The company expects its Disney Studios division to suffer an operating loss between $80 million and $120 million in the second quarter, as a result of the debacle.
Box Office Mojo estimates the movie, which is heavy on special effects, cost $250 million to make. The special effects were supposed to drive the film's success, according to actor Taylor Kitsch, who plays John Carter.
"The great white ape scene is worth the price of admission alone," the actor said in a promotional video, referring to a scene where John Carter fights a giant computer generated ape.
The Disney movie is based on the book "A Princess of Mars," originally published in 1912 as a serialized magazine story.
"John Carter" actually earned mixed reviews from critics. Tom Charity wrote for CNN that it's "comfortable with its own absurdity," and that "for all its flaws this is an altogether more idiosyncratic and personable blockbuster than your typical corporate popcorn fodder."
Burroughs, who also invented the Tarzan character, went on to write 11 books about Carter. The last book, which was actually titled "John Carter of Mars," ends abruptly, as the hero (a different hero, not Carter) is about to be devoured by a giant.