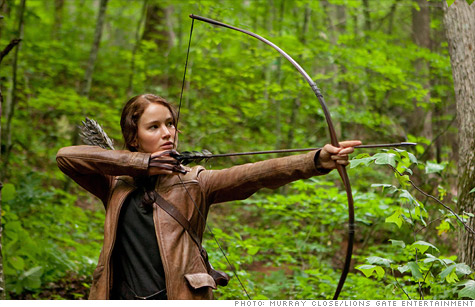 Jennifer Lawrence stars in the film adaptation of The Hunger Games.
NEW YORK (CNNMoney) -- Shares of publisher Scholastic Corp. spiked on Thursday, fueled by strong sales of its Hunger Games series ahead of the film version's release next week.
Scholastic (SCHL) released its quarterly results on Thursday morning, its $467 million in revenue marking a 22% increase from the same period a year prior. Excluding one-time charges, the company posted a loss of four cents a share, an improvement on its 64-cent-per-share loss a year ago.
Scholastic shares were up 13% in mid-day trading at around $36.50, having surged past $40 after the open before pulling back.
In a statement accompanying its results, Scholastic said the improved numbers were driven by "higher sales in children's books and international, especially of The Hunger Games trilogy." There are more than 23 million copies of the series' books in print in the U.S.
Scholastic CEO Richard Robinson called The Hunger Games "yet another Scholastic-published global phenomenon with a large crossover readership by adults." A film adaptation of the first book starring Jennifer Lawrence premieres on March 23.
Scholastic also publishes the wildly popular Harry Potterand Goosebumps series in the U.S.
The company raised its guidance on earnings and revenue for the 2012 fiscal year on Thursday, now projecting earnings per share between $2.60 and $2.90 on approximately $2 billion in revenue. Earlier 2012 guidance estimated between $1.75 and $2.10 per share on roughly $1.9 billion in revenue.