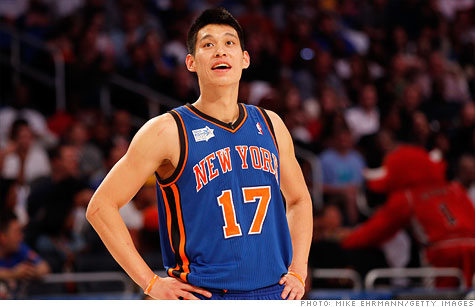 Lin said both he and Volvo "are striving to be better and smarter at what we do, and to do it our own way."
NEW YORK (CNNMoney) -- Linsanity is now brought to you by Volvo.
The Chinese-owned carmaker announced Monday that it had inked Lin to a two-year endorsement contract, with a focus on markets in the U.S. and Asia.
The New York Knicks basketball star burst into public consciousness last month as an undrafted, Taiwanese-American Harvard graduate who went from benchwarmer to star point guard and led the Knicks on an improbable winning streak.

"Jeremy Lin is the pride of the whole Chinese population, and we are excited to work with him," Freeman Shen, president of Volvo Cars China, said at a press conference in New York. Volvo's U.S. CEO, John Maloney, added that Lin "embodies the best of the human spirit" and was "an excellent fit for Volvo."
Lin already has an endorsement deal with Nike (NKE, Fortune 500) that he signed when he turned pro back in 2010. Financial terms of his deal with Volvo were not disclosed.

Lin told the press conference that the partnership with Volvo was "a great match for me."

"Growing up, I never had the super luxurious cars or watches or whatever it may be," he said. "And for me to be able to find a car company that has high quality but is also affordable and relatable was very important."