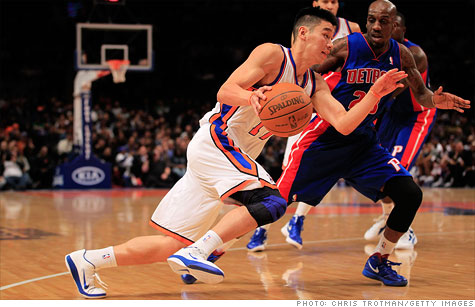 Former Knicks' benchwarmer Jeremy Lin has pushed the basketball team to a five game winning streak.
NEW YORK (CNNMoney) -- Basketball's Cinderella story of Harvard graduate-turned-Knicks' savior Jeremy Lin is adding sizzle and viewership to the beleaguered New York NBA franchise.
And that giddiness and attention is spilling over to the stock of Knicks parent Madison Square Garden.
Shares of MSG (MSG) closed nearly 4% higher Monday hitting its all-time high. This surge comes on the heels of Jeremy Lin's dominance of the Lakers. Lin outscored Lakers' star Kobe Bryant at Madison Square Garden Friday night. Lin's 38 points helped the Knicks beat the Lakers by 92 to 85.
Madison Square Garden's stock has jumped 13% since Feb. 4, when the unknown benchwarmer scored 25 points to help the Knicks beat the New Jersey Nets.
"Calling the Knicks season a disaster is a given as they are spending $60 million on their front line," said Richard Tullo, senior financial analyst at Albert Fried and company. "Something needed to change and they got that change."
That change is now a five-game winning streak for the Knicks. Lin scored at least 20 points in each of those games.
If Lin can continue his stellar performance, Madison Square Garden could gain some lucrative bucks from advertisers who want to showcase brands during Knicks' commercials.
Madison Square Garden, which also owns the Rangers and the MSG and Fuse Networks, was spun out of Cablevision (CVC, Fortune 500) in February 2010. And Tullo estimates that the Knicks account for roughly 40% of The Garden's revenue.
Fans' interest in Lin may also give Madison Square Garden more negotiating leverage with Time Warner Cable (TWC, Fortune 500), which was spun out of CNNMoney parent Time Warner (TWX, Fortune 500) in early 2009.
The cable company doesn't carry Knicks' games in the New York area since the two companies failed to agree on a price tag for what Time Warner should pay MSG to stream its games.
"It's going to be much more difficult for Time Warner to take a hard stand if they have two million people screaming at them," said Tullo.
Of course, for the Linsanity to continue to drive Madison Square Garden's revenues, Lin has to keep the Knicks winning.
"I'd say this kid has earned his keep in just five days," said Tullo.