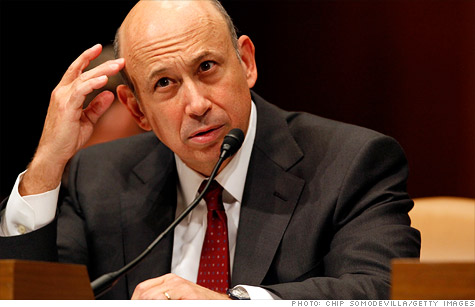 Goldman Sachs might have been forced to split the CEO and chairman posts, now both held by Lloyd Blankfein, if shareholders had approved a pension fund proposal.
NEW YORK (CNNMoney) -- Goldman Sachs has fended off a shareholder challenge that could have forced CEO Lloyd Blankfein to give up his other post of chairman.
The investment bank confirmed Wednesday that John Bryan, a former head of Sara Lee and an outside director at Goldman since 1999, will be given title of lead director.
By doing so, the American Federation of State, County and Municipal Employees (AFSCME) agreed to drop a shareholder proposal that would have required separating the CEO and chairman roles -- both now held by Blankfein.
Bryan previously held the title of presiding director. He gains some additional powers in the new position, including leading an annual review of the CEO's performance and identifying matters for discussion at executive sessions of the independent directors.
"Today's move is a step in the right direction to make sure Wall Street CEOs are held accountable to their shareholders and that taxpayers are not on the hook for their risky bets," said AFSCME President Gerald McEntee.
"We appreciated the constructive talks we had with AFSCME," a Goldman (GS, Fortune 500) spokesman said Wednesday in a request for comment.
Goldman defeated a 2010 proposal to split the top two jobs at the company, with only 19% of shareholders voting for the proposal. But the public scrutiny the firm has faced since 2010 made a shareholder proposal more of a risk.
The firm agreed in 2010 to pay $550 million to settle charges of defrauding investors. In April 2011, the Senate Permanent Subcommittee on Investigations released a report that was very critical of Goldman's activities in the housing market, saying the firm had misled both clients and Congress.
Last August, Goldman confirmed that Blankfein had hired prominent criminal defense attorney Reid Weingarten.
The company also posted its first loss since 2008 during the third quarter of last year.
Earlier this month, an executive wrote a scathing resignation letter that ran on the New York Times opinion page. He called the firm "toxic" and disrespectful of its clients.
Goldman shares have trailed those of other major Wall Street firms such as JPMorgan Chase (JPM, Fortune 500) and Morgan Stanley (MS, Fortune 500) in the last six months. Shares were down in morning trading after a report on the governance change in the Wall Street Journal.
The job of CEO, who is in charge of a company's day-to-day operations, and chairman have traditionally been held by the same individual at both Goldman and across much of corporate America.
But shareholder groups have sought to separate the posts as part of a corporate reform push. Bank of America (BAC, Fortune 500) and Citigroup (C, Fortune 500) are two major Wall Street firms that have split the positions in recent years.
AFSCME still has pending proposals to split the top two jobs at seven other companies.