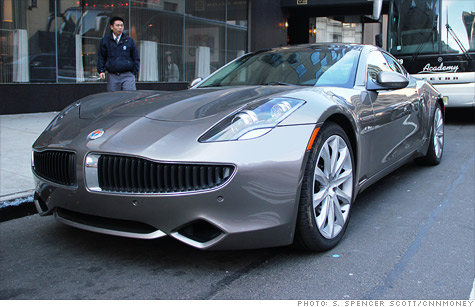 Fisker has experienced some trouble in the early months with its current model, the Karma. A less expensive Fisker car is expected to be unveiled on Tuesday.
NEW YORK (CNNMoney) -- Fisker Automotive is expected to unveil its new, less expensive plug-in car, code named Nina, at an event in New York City Tuesday. But before that car can hit the road, Fisker's got a trunkload of trouble to unload first.
For starters, Fisker needs money. And pretty soon, too.
Fisker plans to assemble the Nina at a former General Motors (GM, Fortune 500) factory in Delaware. It's the factory that used to build the Pontiac Solstice, Saturn Sky and Opel GT convertible sports cars.
But without the money, there will be no factory in which to build the Nina.
Work on that plant was suspended after the Department of Energy blocked Fisker's access to previously arranged DOE loan money. Fisker had gotten $528 million in DOE loan guarantees but had only tapped $193 million of that before funds were cut last May. The issue, according to Fisker, was that the automaker had missed certain production milestones.
Fisker spokesman Roger Ormisher said the automaker is continuing to talk with the DOE while also working to secure additional private financing.
Bad Karma: At least Fisker already has one car on the market, the $100,000 Karma plug-in luxury sedan. Only 600 of them have been sold since their introduction late last year and, already, things have been buggy.
The Karma has faced one safety-related recall and two other serious quality issues requiring owners to bring their cars in for repairs. Its most recent issue: Fisker dealers will need to replace defective batteries made by its supplier A123.
One of those batteries turned out to be the cause of an embarrassing breakdown of a Fisker Karma as it was undergoing routine testing by Consumer Reports magazine. The magazine, considered one of the most influential among car buyers, promptly posted a story and video on its website about the incident. The reports received wide play in automotive blogs.
While its battery has been replaced, Consumer Reports' car is still experiencing other nagging problems, said David Champion, head of auto testing for the magazine. For instance, various warning lights come on then, mysteriously, go off again in the instrument display.
"I'm not fully confident all the bugs have been cured on this car," he said.
It's not too surprising, Champion allows, that a brand new automaker producing a car with this much new technology might run into a few problems early on.
"This is a super-complicated vehicle that's got all the bells and whistles of a luxury car plus all the complications of a plug-in car," he said.
Fix, apologize, move on: Much of Fisker's future success will hinge on how the automaker responds to these and any future problems, said John O'Dell, an analyst with the automotive Web site Edmunds.com.
"If they admit the problems and fix them, most people will say, 'that's what they're supposed to do and that's good,'" he said.
After the discovery of the latest battery issue, Fisker extended the warranty on the Karma's battery packs in addition to replacing them.
Other reviews of the Karma have been mixed. While most critics praise the Karma's design, they also note its cramped interior and hefty weight, mostly a result of massive battery packs. The EPA rates the Karma as a compact car based on its interior volume space despite length and weight close to that of a Chevrolet Tahoe SUV.
With the Nina, Fisker can't repeat the Karma's tight interior, said Reynolds. High-end luxury car buyers might be willing to put up with it for the sake of a sexy design, but buyers looking for a practical $40,000 car won't.
The Nina -- which could have a different name after its unveiling -- is expected to cost about $40,000 after a $7,500 federal electric car tax credit.
"That would be between the Chevrolet Volt and the Tesla Model S, and there's nothing else there right now," he said.
But, the most important thing for now is that Fisker projects confidence, he said. This isn't the time to go into hiding.
"They've got to show they have plans and dreams and visions for that Delaware factory," he said.