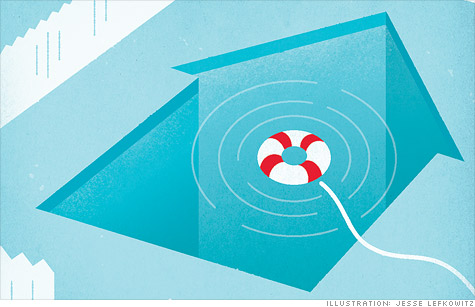 (MONEY Magazine) -- If falling prices have left you with a mortgage bigger than your home's value, you may soon be able to refinance at a lower rate.
To settle complaints of foreclosure abuses, Bank of America, Wells Fargo, (WFC, Fortune 500) J.P. Morgan Chase (JPM, Fortune 500), Citigroup, and Ally have agreed to at least $3 billion worth of refis for customers current on underwater mortgages still held by the banks. Guidance about who might qualify is maddeningly scarce, but two banks have published some criteria they'll use, and all the banks are fielding inquiries.
Housing: The one bailout American could really use
Other rays of hope: Mortgages held by Fannie Mae or Freddie Mac, not part of the deal, might qualify for federal HARP refis speeded up by streamlined underwriting. Plus, a similar deal with nine more banks is in negotiations.
Hurdles to clear
You may get a refi if your mortgage rate is at least 5.25%, the balance exceeds 100% of the home's value, the principal is less than $730,000 and you closed before January 1, 2009.
Get more information about the $25 billion mortgage agreement.
Do you know a Money Hero? MONEY magazine is celebrating people, both famous and unsung, who have done extraordinary work to improve others' financial well-being. Nominate your Money Hero.