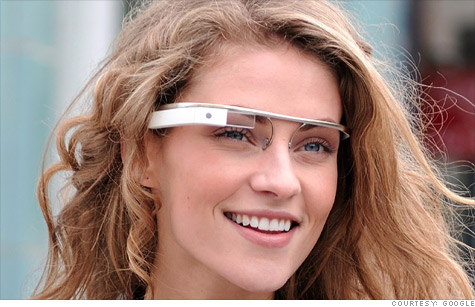 Google is developing a wearable smartphone screen as part of its 'Project Glass' initiative.
NEW YORK (CNNMoney) -- Siri is about to get one-upped by Google.
The company on Wednesday unveiled a long-rumored concept called "Project Glass," which takes all the functionality of a smartphone and places it into a wearable device that resembles eyeglasses.
The see-through lens could display everything from text messages to maps to reminders. They may be capable of showing video chats, providing turn-by-turn directions, taking photos and recording notes -- all through simple voice commands, according to a concept video produced by the company and released on YouTube.
Project Glass is nowhere near complete, and Google (GOOG, Fortune 500) says it only went public with its effort to gather outside feedback. The stealth project has been in development for two years by a small team of engineers.
The "heads-up display" glasses were born in Google's Google X lab, which is the same future-thinking research facility that developed a driverless car and is working on a space elevator.
Google has no timeline for when the device will go on sale, but Google X engineers are beginning to use prototypes outside of the lab's walls.
One thing they're working on in field tests: The researchers haven't yet decided whether the glasses should be stand-alone or be wirelessly powered by a smartphone.
The precise look and feel of the hardware and software is still in the early design phase, but Google produced a concept design that looks like something out of a sci-fi movie. They're not quite what you'd see on RoboCop or Geordi LaForge, but they'll never be mistaken for normal eyeglasses either.
The Google concept shows a video camera and a small piece of glass over the right eye, with no lens on the left. That half-and-half design was an intentional choice.
"We think technology should work for you -- to be there when you need it and get out of your way when you don't," the company said on its Google+ page.
The software design appears a lot cleaner than the hardware, with friendly icons and unobtrusive notifications. But Google's concept video portrays perhaps the loneliest vision of the future ever.
A man starts his morning by putting his glasses on, then goes through most of his day talking to himself, without actually interacting with anyone face-to-face, save one friendly pat of a bulldog and a super-quick visit to a coffee truck with a buddy.
A notification delivered in the morning to "See Jess tonight at 6:30 p.m." turns out not to be an actual date, but a video chat. As the sun sets, Google's protagonist remotely serenades his friend's avatar with a ukulele.
What Google's final version will look like -- and whether it will actually end up on store shelves -- is anyone's guess.
But Google X's futuristic sketch proves that those little plastic rectangles we've been accustomed to communicating through could soon be outdated technology.