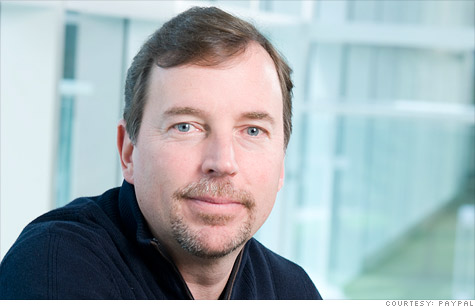 Yahoo CEO Scott Thompson has begun sketching out a road map for the ailing Internet giant.
NEW YORK (CNNMoney) -- One week after cutting 2,000 employees -- about 14% of Yahoo's workforce -- CEO Scott Thompson unveiled an internal overhaul aimed at streamlining the sprawling Internet portal.
"I want every one of us to keep one thing top of mind: what we do is about our customers, not about us," Thompson wrote in a staff memo obtained by CNN.
Yahoo's main focus will be its consumer business group, an umbrella for its vast network of news, e-commerce and social sites.
Within the consumer unit, Yahoo's media group will house its "marquee" online brands, including its Yahoo.com homepage and its news, finance, sports and entertainment sites. That group will be led by Ross Levinsohn, formerly Yahoo's executive vice president of the Americas region.
A "connections" unit, helmed by former Yahoo search head Shashi Seth, will run Yahoo's search and social sites, including Mail, Messenger and Flickr.
A newly created "commerce" team will oversee Yahoo's autos, shopping, travel, jobs and real estate sites. Yahoo hasn't yet appointed a leader for that group, but AllThingsD reports that it's likely to be Sam Shrauger. A former top executive at PayPal -- the eBay (EBAY, Fortune 500) unit Thompson led before leaving in January for the top job at Yahoo -- Shrauger resigned yesterday after eight years with the company.
The new Yahoo will have two more key business units: a technology group responsible for developing the company's platforms and "Regions," a sales-focused group serving advertisers.
Thompson plans to provide more detail on his vision for Yahoo (YHOO, Fortune 500) next week, when Yahoo releases its first-quarter financial results.
But already, he seems to be answering a question that has flummoxed Yahoo's recent string of ill-fated CEOs: What is Yahoo?
In Thompson's view, it's a media company.
"Our online media presence has long been our company's clearest competitive advantage," he wrote in his memo to Yahoo's staff.
Once the Internet's first and largest Web portal, 17-year-old Yahoo (YHOO, Fortune 500) has lost its edge in nearly every field to newer, nimbler rivals. The company gave up on search in 2009, and it's losing ground in display advertising to new entrants to the market such as Google (GOOG, Fortune 500) and Facebook.
But it retains a massive user base. It's network of sites is the third largest U.S. Web property, trailing only Google and Microsoft (MSFT, Fortune 500), according to the latest data from traffic tracker ComScore. Yahoo's network had 174 million unique visitors in February, ComScore says, edging past Facebook's 159 million.
Creating content and new products that will excite those customers is Yahoo's top priority, Thompson told his troops.
"Our success is determined by how well we engage consumers and give them fun and informative experiences that they feel were designed just for them, on all screens," he wrote.
-CNN's Chris Dignam contributed to this report