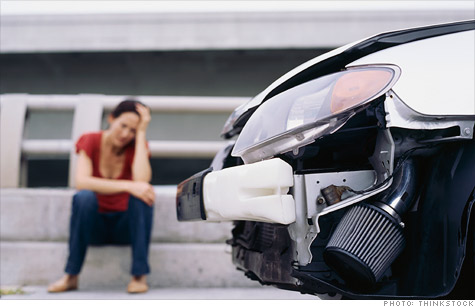 NEW YORK (CNNMoney) -- The odds of getting into a fatal crash increase by 6% on tax filing day, according to a study published Wednesday in the Journal of the American Medical Association.
"Tax days are associated with an increase in fatal crash risk, which is similar in magnitude to the increase in crashes on Super Bowl Sunday," wrote study authors Dr. Donald Redelmeier and Christopher Yarnell of the University of Toronto.
The study focused on the 6,783 people who died in car crashes in the U.S. over the last 30 years on April 15, compared to the week preceding tax day and the week that comes after. The results found a nationwide average increase of 13 fatalities on tax day, which is a 6% increase. This year, taxes are due on April 17.
"One explanation is that stressful deadlines lead to driver distraction and worsen short-term human error," Dr. Redelmeier told CNNMoney.
He said that sleep deprivation, greater use of alcohol, lower tolerance for other drivers, and the "unwanted distraction" of filing taxes could all contribute to a jump in accidents.
Redelmeier added that the heightened risk does not just apply to late filers, emphasizing that everyone is at risk throughout the day.
"Even if you file early, it does not mean that you are immune to the phenomenon, because of the shared nature of most roadway crashes," said Dr. Redelmeier. "You are surrounded by other drivers, any one of whom could change your life forever."
Surprisingly, the emergence of electronic filing in recent years has not curbed the number of fatal crashes, he said, possibly because it gives taxpayers the impression that they can wait until the last minute.