(MONEY Magazine) -- Europe is strong and growing -- if you know where to look.
On the one hand, there are healthy global giants that are undervalued now simply because their headquarters are in the eurozone. Then there are countries that, while connected geographically to no-growth nations, are in much better shape economically. To find them, fix your GPS to the north.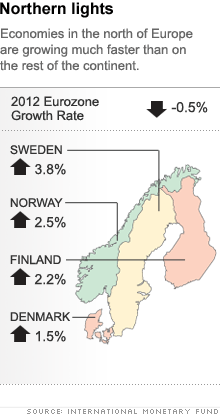 Sweden, Norway, Denmark, and Finland have weathered the European crisis with mostly flying colors. "From a macroeconomic perspective, the Nordic markets are in a much better standing than the rest of Europe," says Bruno del Ama, portfolio manager and CEO at Global X Funds.
No malaise here. Del Ama cites Nordic nations' solid fiscal policies, almost nonexistent deficits, low unemployment, and strong domestic demand as reasons they're growing despite the malaise spreading across the continent. Perhaps even more important, in a world economy that is still growing, on balance, Northern European countries produce an abundance of lumber, fish, and oil to fuel that expansion. Norway, in fact, is the world's seventh-largest exporter of crude.
None of this is to say that the region is completely insulated against the winds blowing from the south; the European Union is still Northern Europe's biggest customer. And with the exception of Finland, which is on the euro, the appreciation of national currencies could hurt export businesses. In addition, you'll pay up for the region's growth. The average eurozone stock has a price/earnings ratio of 10.9. In the north, P/Es run from 10.6 in Norway to 17.5 in Denmark.
Less downside. That said, "Nordic countries have much better downside protection than the rest of Europe" because of strong regulations and a flush banking sector, says Per Johansson, the manager of the Fidelity Nordic Fund (FNORX). The region is also far more than a mere exporter of raw materials. It is home to a range of innovative global players from truck maker Volvo to fashion retailer H&M to shipping giant Maersk.
All this makes the risk/reward calculation a "no-brainer" for a long-term investor, argues Johansson, whose fund charges annual fees of 1.05% of assets. If you prefer to hold passively managed index funds, Global X runs the Nordic Region ETF (GXF), which charges 0.5%.
Finally, while the north isn't growing at the pace of, say, China, it is expanding much faster than even its healthiest European neighbors, Germany and the United Kingdom. Their economies are expected to grow less than 1% this year. So embrace the chill.

Do you know a Money Hero? MONEY magazine is celebrating people, both famous and unsung, who have done extraordinary work to improve others' financial well-being. Nominate your Money Hero.