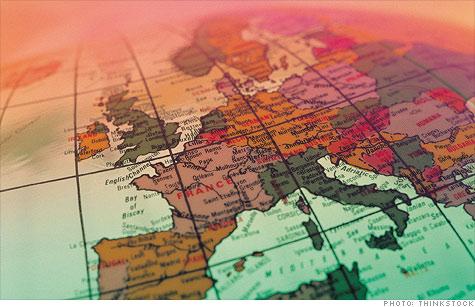 Don't let a good crisis go to waste. Start sifting through Europe's discount bin for investment deals now.
(MONEY Magazine) -- The financial crisis in Europe is far from over. In fact, it could take years for the debt-laden nations known as the PIIGS (Portugal, Ireland, Italy, Greece, and Spain) to trim down their bloated budgets.
Still, as is often the case in times of turmoil, fear can lead to opportunity. The fact is, many European blue chips are now trading at big discounts to rivals in the U.S., merely for having their headquarters "across the pond." Investing in Europe may seem scary, but if you do your homework, you'll find some terrific contrarian investments.
The first trick is to stay clear of the PIIGS -- there's still too much uncertainty in those countries. Focus instead on the healthier Northern European economies, and stick with large firms without much direct exposure to their home markets.
"There are companies there that, regardless of what happens to the euro, should survive, grow profits, and take market share," says Stan Pearson, head of European equities at Standard Life Investments.
Multinationals on sale
Unilever (UN) is a good example. Shares of the Dutch-British consumer products giant trade at a 5% discount to U.S.-based Procter & Gamble (PG, Fortune 500), based on estimated 2012 profits, and a 12% discount to Colgate-Palmolive, even though all three firms have similar projected- earnings growth rates in the high single digits, says James Hunt, manager of the Tocqueville International Value Fund. He also likes German conglomerate Siemens (SI), which trades at a lower price/ earnings ratio than General Electric (GE, Fortune 500), even though Siemens' profits are forecast to grow about twice as fast over the next five years.
As for Pearson, he favors ASML Holding (ASML). Only 5% of the Dutch semiconductor equipment maker's sales come from Europe. Most are to chipmakers in South Korea, the U.S., and Taiwan. Its earnings are expected to rise about 10% annually for the next few years, according to Bloomberg. But it trades at a below-average P/E of 13.6.
There are even bigger bargains in the oil patch. Jason McPharlin, a manager with Rushmore Investment Advisors, notes that the European energy giant Royal Dutch Shell (RDSA) trades at just 8 times projected 2012 earnings, vs. Exxon Mobil's (XOM, Fortune 500) P/E of nearly 11. Royal Dutch Shell also happens to yield twice as much as its rival.
Joseph Tatusko, chief investment officer for Westport Resources, favors French oil company Total (TOT), also with a P/E of just 8. "As we've learned from past crises, not everything fails," he says. "You just have to focus on high-quality companies with well-established international businesses. Those stocks don't stay down forever."
Do you know a Money Hero? MONEY magazine is celebrating people, both famous and unsung, who have done extraordinary work to improve others' financial well-being. Nominate your Money Hero.