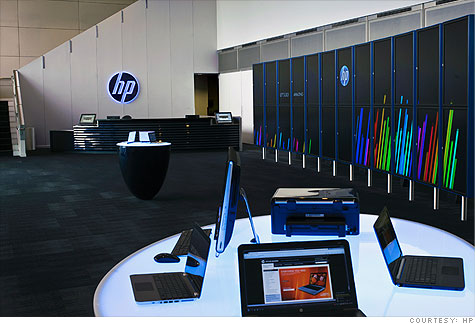 HP was the first quarter's surprise PC shipments winner.
NEW YORK (CNNMoney) -- Hewlett-Packard offered a surprising ray of sunshine in an otherwise gloomy first quarter for PCs.
HP's PC shipments in the United States grew by nearly 7% over the first quarter of 2011, outpacing every other competitor -- even mighty Apple (AAPL, Fortune 500) -- according to estimates compiled by tech research firms Gartner and IDC.
Besting Apple's growth isn't easy, since HP is by far the world's largest PC manufacturer. The last time HP's U.S. PC sales growth outpaced Apple's on a year-over-year basis was in late 2009.
Two strategies paid off for HP (HPQ, Fortune 500).
It was more successful than its competitors in securing hard drives, which are in short supply following last year's Thailand floods. Many PC manufacturers faced a hard drive shortage over the past few quarters -- including HP, up until the beginning of 2012.
Gartner also cited the resolution of the company's "internal management issues," a veiled reference to the company's long stretch of turmoil. Under former CEO Leo Apotheker, HP considered ditching its PC business, but current CEO Meg Whitman decided late last year to hang onto it.
For everyone not named HP or Apple, this quarter was yet another dismal one. Dell's (DELL, Fortune 500) U.S. PC shipments fell by nearly 4%, Acer tanked by 26% and Toshiba dropped 19%.
Overall, shipments of PCs in the United States fell by 3.5%, the second straight quarter of sizable declines. Worldwide, PC shipments grew by about 2% to 89 million, which is slightly better than expected.
PC shipments are on pace to grow just 4.4% this year, Gartner estimated.
That's better than last year, when shipments of PCs were flat, but still tepid compared to previous years.
The good news for PC makers is there is -- potentially -- a light at the end of the tunnel. Microsoft (MSFT, Fortune 500) Windows 8 and Intel's Ivy Bridge processor are expected to launch later this year. After Ivy Bridge is released, Intel (INTC, Fortune 500) expects its ultra-thin ultrabook lineup to represent 40% of all consumer notebook sales by the end of the year.
The year-end holiday season will be a make-or-break stretch, according to IDC analyst Loren Loverde.
"That alone will likely determine if there is any growth at all in the U.S. market in 2012," he said.
Meanwhile, consumer attention has shifted to tablets like the iPad. A separate Gartner forecast released this week anticipated Apple would sell 73 million iPads this year, up from 40 million last year.
That number is expected to grow to a stunning 170 million in 2016.