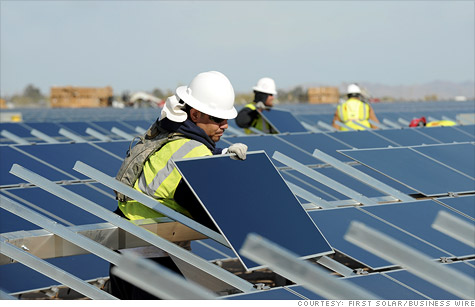 First Solar announced 2,000 job cuts, though most of them will occur in Germany. U.S. workers, such as those at the Desert Sunlight Solar Farm in California, will be largely spared.
NEW YORK (CNNMoney) -- First Solar, a maker of photovoltaic panels and other sources of alternative power, announced on Tuesday that it will cut 2,000 jobs in the U.S. and Europe.
First Solar (FSLR) said it will reduce 30% of its workforce in order to save money. The company's stock rose more than 8% on the news.
Europe will bear the brunt of the cuts. First Solar spokesman Ted Meyer said that 120 job cuts will occur in the United States, mostly to corporate and administrative staffers. He said the bulk of the jobs lost -- some 1,200 positions -- will be in Germany, primarily because of an impending factory closure in Frankfurt. First Solar will also idle production lines in Malaysia this year.
First Solar, based in Tempe, Ariz., blamed "deteriorating market conditions in Europe" for its need to implement cost-saving cuts. As a result of the restructuring, the company expects to save between $30 and $60 million in 2012, and an additional $100 to $120 million annually going forward.
Solar-panel companies have been hit hard by plummeting prices, even as installation of solar panels in private homes doubled last year. The U.S. solar-panel industry may also have been impacted by cheap competition from China.
Meyer said that First Solar has received guaranteed loans from the Department of Energy to build power plants for three separate projects: Agua Caliente, owned by NRG (NRG, Fortune 500) and Warren Buffett's investment firm Berkshire Hathaway (BRK-A); Desert Sunlight Solar Farm, owned by GE (GE, Fortune 500) Capital and NextEra Energy Resources (NEE, Fortune 500); and Antelope Valley Solar Ranch, owned by Exelon Corp (EXC, Fortune 500). He said the loans for the 25-year contracts are backed by the sale of electricity from those power plants.
As a result of the Frankfurt factory's closure, First Solar will have to repay a $30 million grant from the German government and another $15 to $20 million related to the repayment.
Another solar panel company, Solyndra, garnered a $528 million loan guarantee from the Department of Energy, but collapsed into bankruptcy last year anyway.