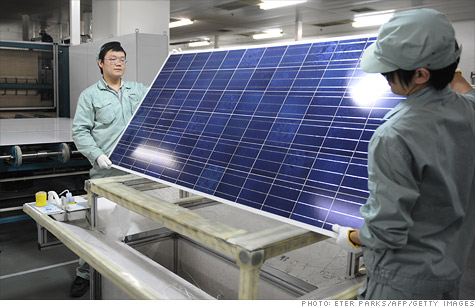 Workers assemble solar panels by hand on the factory floor of Chinese company Suntech in the eastern Chinese city of Wuxi.
NEW YORK (CNNMoney) -- The U.S. Commerce Department announced tariffs on Chinese-made solar panels on Tuesday that it said had benefited from unfair subsidies by Beijing.

The preliminary ruling came in response to a complaint from SolarWorld Industries America, a U.S. manufacturer that is a subsidiary of Germany's SolarWorld. The tariffs were lower than many analysts had predicted, however, boosting shares of Chinese solar-panel makers in Tuesday's trading.

China's Yingli Green Energy (YGE) closed up 12%, while Suntech Power (STP) was up 14% and Trina Solar (TSL) finished up 8%. On the flip side, shares of U.S. panel makers First Solar (FSLR) and SunPower (SPWR) lost ground.

"The duties were lower than expected, and this is a knee-jerk reaction," said Jesse Pichel, a clean technology analyst at Jefferies.

Under the ruling, which still needs to be finalized following a review process, Chinese-made panels would be hit with tariffs ranging from 2.9% to 4.7%.

The issue has divided the U.S. solar industry, with some companies complaining that Chinese trade practices are smothering U.S. manufacturers.

"Today's announcement affirms what U.S. manufacturers have long known: Chinese manufacturers have received unfair and [World Trade Organization]-illegal subsidies," Steve Ostrenga, CEO of Wisconsin's Helios Solar Works, said in a statement.
But many others say the complaint is counter-productive. Jigar Shah, president of the industry group Coalition for Affordable Solar Energy, said in a statement that tariffs on Chinese panels would slow the growth of solar and cost the industry jobs in the U.S., for example in installation.

An additional ruling on whether Chinese companies have been dumping panels on the U.S. market is due in May, which could result in steeper tariffs.

But in any case, Pichel said that Chinese manufacturers would likely avoid the tariffs by shifting production for the U.S. market to other countries.

"This will raise the cost of production for leading Chinese brands and it will raise the price for U.S. consumers," he said.

China could retaliate with a WTO complaint based on U.S. production of polysilicon, which is used to make solar panels, he added.

The ruling comes at an already-tense time in U.S.-Chinese trade relations, with disputes simmering over rare earth minerals, the auto industry and the yuan's valuation.