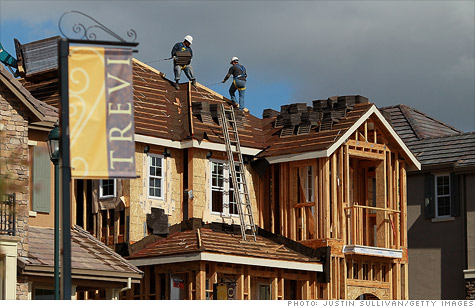 NEW YORK (CNNMoney) -- After a strong start to the year, home builders have pared back, according to a report from the Census Bureau.
The number of new homes that began construction in March fell 5.8% to an annualized rate of 654,000 compared with February, the bureau said Tuesday. Housing starts were up year over year, however, by 10.3%.
The decline in starts represented a "pause in what had been a fairly rapid build-up in builder confidence that started last September," said David Crowe, chief economist for the National Association of Home Builders.
He cited two factors contributing to the slowdown: competition from foreclosures and tight credit conditions that made it difficult for builders to get construction loans and homebuyers to get mortgages.
The results fell short of analyst expectations. A panel of experts from Briefing.com had forecast that starts would clock in at 700,000.
The report contained some good news. Housing permits, a more forward looking market indicator, grew 4.5% in March to a 747,000 annual rate, compared with a month earlier. They were up 30.1% year over year.
"What we're seeing is a mixed bag," said Michael Larson, an analyst with Weiss Research. "While some numbers are a little bit better, you can't really call the housing market recovery very healthy."
Much of the rise in housing permits were for multi-family homes, but the Census Bureau report does not distinguish whether those developments are for rental apartments or condominiums.
Larson suspects more of the multi-family starts are intended as rentals. Many potential homebuyers are still waiting to buy, unwilling to invest in homes that are still falling in value or unable to get access to credit.
"People who can't get a mortgage are still looking for a roof over their heads," said Larson.
They're more likely now to rent that roof than to own it. Homeownership has fallen from more than 69% in 2004 to about 66% today.