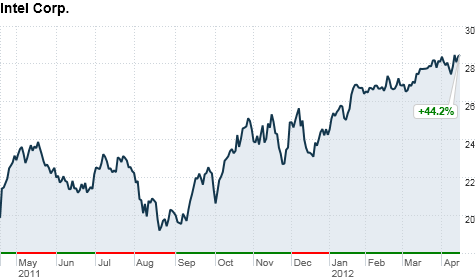 Intel shares have surged over the past 12 months.
NEW YORK (CNNMoney) -- Flat PC and server sales in the first quarter didn't give Intel investors much to be excited about, but the company swears this quarter is going to be sweet.
Calling the first quarter "a solid start," Intel CEO Paul Otellini said his company has some big product launches coming in the next few months that will make 2012 "another growth year" for the company.
The first smartphones with Intel inside are set to come to market this quarter, and the long-awaited (and delayed) Ivy Bridge 22-nanometer chip architecture is set to be released this month. Ivy Bridge -- plus an expensive ad campaign -- is expected to provide a big boost to the ultrabook market that Intel expects to make up 40% of laptop sales by the year's end.
On a conference call with analysts, Otellini pushed back on questions of whether ultrabooks will eventually outsell tablets, saying, "I don't think anyone in the world knows the answer to that." He said that debate is still in its early days, and pointed out that lines between similar devices tend to blur eventually.
On the smartphone front, one analyst wanted to know if any progress had been made in getting Intel's architecture into the best-selling device on the marketL Apple's (AAPL, Fortune 500) iPhone.
"It's an account we would love to win," Otellini responded. "I can't speak for Apple, but they know where we are."
Meanwhile, things at Intel are okay ... but not great.
PC sales slipped 1% and server sales were essentially flat. Overall sales for the Santa Clara, Calif.-based company held steady at $12.9 billion, just edging past analysts' forecasts of $12.8 billion.
The company said it expects sales in the current quarter, which ends June 30, to come in between $13.1 billion and $14.1 billion, meeting analysts' forecasts.
The world's largest chipmaker said its net income fell to $2.7 billion, down 13% from a year earlier.
Results included one-time charges totaling 3 cents per share. Without the charges, Intel said it earned 56 cents per share. Analysts polled by Thomson Reuters, who typically exclude one-time items from their estimates, forecasted earnings of 50 cents per share.
Shares of Intel (INTC, Fortune 500) fell 2% after hours.