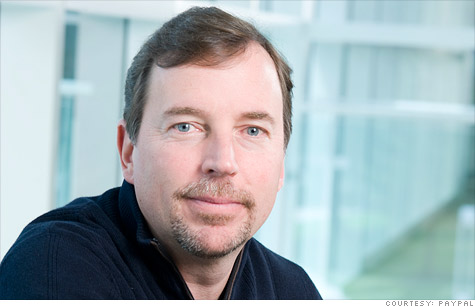 Yahoo's new CEO, Scott Thompson, is launching a major restructuring to pull the company out of its slump.
NEW YORK (CNNMoney) -- New Yahoo CEO Scott Thompson is the latest leader to promise a splashy turnaround -- and though it's an old party line by now, the earnings for his first full quarter on the job were upbeat.
Yahoo (YHOO, Fortune 500) pulled in 23 cents a share on $1.07 billion in sales for the first quarter, the company said Tuesday. Earnings topped analyst estimates, while revenue, up a scant 1% from last year, came in as expected.
But the real focus was on the post-earnings conference call, during which Thompson outlined the streamlining plan he unveiled last week.
Yahoo's main focus will now be its consumer business group -- an umbrella for its vast network of news, e-commerce and social sites. Other new moves include ramped-up technology and sales groups.
But that reorganization comes with some pain. Earlier this month, Yahoo cut 2,000 jobs -- around 14% of its workforce.
On Tuesday's call, Thompson revealed that Yahoo will shutter about 50 properties "that don't contribute to the core interest." He didn't specify which specific sites and units will be affected.
He also pushed back on those calling Yahoo's turnaround a comeback attempt.
"We don't need to reinvent who we are," Thompson protested on the call. "We're one of the leading media companies. But we do need to reinvent the experiences our users have."
'What we won't do': Thompson spent a good bit of time talking up Yahoo's strong performers in the content space, particularly its sports and news sites. But he acknowledged that everyone "knows the challenges we face."
"We've lost share of people's time spent online in the recent years," he said. "When I came on we specifically asked, what would it take to refine Yahoo's focus? How would we build Yahoo from the ground up, if we were starting it today?"
He concluded: "I'm certain we need to be clearer going forward about what we won't do."
Thompson is aiming to do something that his recent predecessors -- including Carol Bartz, who was forced out in September -- repeatedly failed at: articulating a vision of what Yahoo is.
Thompson's crazy 2012: Thompson, who joined Yahoo in January, has already made several bold moves in his three months on the job. In February, four longtime board members including chairman Roy Bostock announced they would not seek re-election.
Exactly one week after that announcement, activist shareholder Daniel Loeb and his hedge fund Third Point launched a proxy fight. Third Point, which owns a 5.56% stake in Yahoo, is proposing four new Yahoo board members, including Loeb himself.
Mere weeks later, in March, Yahoo filed a lawsuit against Facebook. The high-profile suit alleges that Facebook infringed on 10 of Yahoo's patents related to advertising, privacy, customization, messaging and social networking.
The Internet's first giant portal has retained a massive user base, but it's lost its edge in nearly every field to newer rivals. The company gave up on search in 2009, and it's losing ground in display advertising to new entrants to the market such as Google (GOOG, Fortune 500) and Facebook.