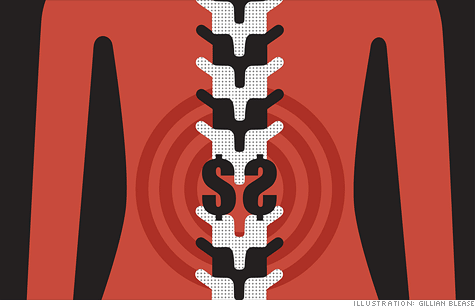 Back pain costs afflicted Americans, on average, $6,100 per year.
(MONEY Magazine) -- Americans spend plenty of money seeking a cure for back pain. It's a common, often debilitating ailment. But before you drop a bundle on medical treatment for your aching spine, check out these less costly, less aggressive ways to address the discomfort.
1. It can cost you a bundle
About 80% of adults will suffer back pain at some point in their lifetime, making it among the top reasons Americans visit the doctor.
Chronic spine aches can be a pain in your wallet too: Patients who suffer from bad backs need an average of $6,100 worth of medical care each year, according to a study in the Journal of the American Medical Association, which means you're likely to be looking at big co-payments for prescriptions, doctor visits, and even surgery.
2. Small changes can be a big help
Sit back in your chair, put your computer monitor an arm's length in front of you, and keep your elbow tight next to your body when using your mouse and keyboard, says Alan Hedge, an ergonomics professor at Cornell.
If that doesn't help, ask your employer if there is an ergonomist on staff (many large companies have one) and whether you can have a chair with a flexible back, which alleviates strain, says Hedge.
3. You shouldn't rush into an MRI test
At the onset of pain, you may be tempted to get an imaging test like an MRI. It's usually better to wait a few weeks, says Brook Martin, an orthopedic surgery instructor at Dartmouth.
MRIs don't show muscle strains and pulled ligaments -- top reasons for pain -- and often reveal other common issues, such as bulged disks. That can lead to unnecessary surgery, says Martin, since bulged disks aren't always harmful or a source of discomfort.
4. Cheap treatments often do the trick
Take ibuprofen, apply ice, and take it easy for a day or two, says Paul Cooke, a doctor at New York's Hospital for Special Surgery.
If you see no improvement in a few days, go see your primary care doctor who may refer you to a physical therapist. Most insurers cover PT for at least 10 visits.
If you're still hurting, see a nonsurgical spine doctor, who may recommend steroid injections. Some people also find relief in acupuncture or medical massage (about $70 to $150 per visit, sometimes covered by insurance).
5. Surgery isn't always a cure-all
Procedures such as spinal fusion can cost thousands in co-insurance, and you'll face weeks out of the office. Worse, they may not work.
"Research on who surgery benefits is lacking," says Martin.
Clinical guidelines recommend that most people try nonsurgical treatments for at least six weeks. Is your doctor pushing for surgery sooner? Time to get a second opinion.
Do you know a Money Hero? Money magazine is celebrating people, both famous and unsung, who have done extraordinary work to improve others' financial well-being. Nominate your Money Hero.