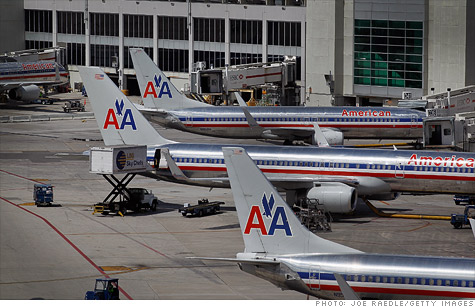 American Airlines blamed high fuel prices, among other things, for its $1.7 billion quarterly loss.
NEW YORK (CNNMoney) -- The parent of American Airlines, which went into bankruptcy last year, announced a quarterly net loss of $1.7 billion on Thursday, slammed by reorganization costs and rising fuel prices.
The loss was more than quadruple the carrier's loss from a year earlier, when AMR Corp. reported a net loss of $405 million in the first quarter of 2011.
AMR said the part of the loss stemmed from $1.4 billion in reorganization costs in the latest quarter. The company said the costs were related to its bankruptcy filing from last Nov. 29.
The largest chunk of those costs -- some $1 billion - is related to the rejection of eight aircraft leases and eight aircraft engine leases, and the modification of 158 aircraft leases, the airline said.
American was also hit by rising fuel prices. The company said that it paid $3.24 per gallon of jet fuel in the first quarter of 2012, a 17% increase from $2.76 in the year-earlier quarter. The airline said this equated to an increase in costs of $325 million.
While American Airlines didn't specifically mention job cuts in its quarterly report, the carrier said in February that it was cutting 13,000 positions from its overall staff of 88,000. Layoffs, especially when they happen en masse, typically cost a lot of money for the company that's handing out the severance packages.
American is one of the largest U.S. carriers, competing with Delta Air Lines (DAL, Fortune 500) and United Continental Holdings (UAL, Fortune 500).