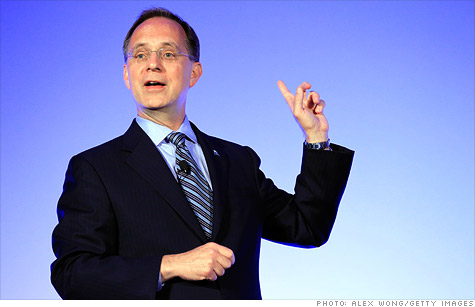 JetBlue chief executive David Barger said the pilot whose erratic behavior resulted in an emergency landing of a flight Tuesday was a "consummate professional."
NEW YORK (CNNMoney) -- JetBlue was doing damage control Wednesday after one of its pilots suffered an apparent mental breakdown that resulted in an emergency landing.
Dave Barger, the chief executive of JetBlue, went on a morning talk show to address the incident, saying he knew the pilot personally and that the captain was a "consummate professional."
The pilot, identified by law enforcement officials as Clayton Osbon, had to be restrained by passengers after he began behaving erratically and was locked out of the cockpit by his copilot.
Barger stressed that Osbon's "individual action" was not an example of how JetBlue's 14,000 crew members behave. Instead, he focused on the response of JetBlue staff and passengers on the flight, which landed safely Tuesday in Texas after being diverted.
"That was a real team effort at 35,000 feet yesterday," Barger told NBC's "Today Show."
In a statement posed on its blog, JetBlue stood by its characterization of the event as a "medical situation," although it acknowledged that the incident raised security concerns.
"As the events unfolded, it became clear that security was also an element of this episode, but not the overriding issue in our opinion," according to JetBlue.
A federal criminal complaint was filed Wednesday charging the JetBlue pilot with interfering with a flight crew.
Tuesday's incident was the second high-profile event involving a JetBlue employee to garner national headlines.
In August 2010, JetBlue flight attendant Steven Slater made headlines for his rather dramatic and abrupt resignation, which involved a plane's emergency chute, cans of beer and a tirade of expletives.
Meanwhile, the immediate response from JetBlue customers Wednesday was mixed, according to comments posted on the airline's official blog, BlueTales.
Some comments expressed support for JetBlue and praised the passengers who restrained the pilot. "Still love and support jetblue!" one comment read. "Seriously a huge applause to the guys who took over and landed the people safely!"
But not all of the feedback was positive.
Other comments questioned JetBlue's initial characterization of the incident as a "medical situation." Others raised questions about safety.
"My question is: is it safe for your customers for you to be employing pilots who have a medical condition of this nature? Sure doesn't seem that way," one commenter asks.
Tim Calkins, professor of marketing at Northwestern University's Kellogg School of Management, said consumers are generally forgiving when it comes to brands they like. But he cautioned that another high-profile problem with unhinged employees could do serious damage to JetBlue's reputation.
"The leadership team at JetBlue has to be concerned, in the sense that a series of incidents can create negative perceptions," said Calkins.
JetBlue needs to respond quickly and seriously to restore confidence in its brand, he added.
Investors, for their part, took the news in stride. JetBlue (JBLU) stock rose more than 3% on Wednesday, erasing losses from the previous day.
Indeed, airline stocks bucked the trend in the broader market Wednesday, with shares off United Continental (UAL, Fortune 500), Delta (DAL, Fortune 500) and Southwest (LUV, Fortune 500) gaining significant ground.
But so far this year, JetBlue's stock has lagged the gains of United Continental, Delta and US Airways (LCC, Fortune 500) by a wide margin.
JetBlue may have to reimburse passengers on Tuesday's flight, but the impact on the company's finances will be "negligible," said Savanthi Syth, an airline industry analyst at Raymond James.
Syth points out that JetBlue operates roughly 650 flights per day and that Tuesday's incident resulted in a "relatively minor" disruption. In addition, she said consumers are primarily concerned with the cost of air travel and other hassles, such as delays and lost baggage.
"I don't think these isolated incidents have a big impact on brand loyalty," said Syth.