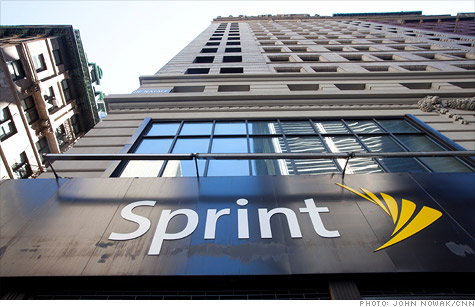 NEW YORK (CNNMoney) -- New York's attorney general filed a tax fraud lawsuit against Sprint Nextel on Thursday, accusing the wireless carrier of intentionally underpaying sales tax in the state for seven years.
Starting in 2005, Sprint stopped collecting and paying New York sales tax on around 25% of the revenue from its fixed-price monthly cell phone plans, according to New York Attorney General Eric Schneiderman.
Its goal, he says, was to give itself a price advantage over its rivals. Verizon (VZ, Fortune 500), AT&T (T, Fortune 500), T-Mobile and MetroPCS (PCS) all collect the taxes Sprint is accused of shirking, according to Schneiderman.
He says that Sprint's "unlawful actions" cost the state more than $30,000 per day -- a $100 million underpayment, in total. Under New York state law, Sprint could be on the hook for as much as $300 million, plus penalties, if it is found liable.
"Sprint did not correct its sales tax practices when it was informed of its illegality, and it has not corrected them even today," a statement from Schneiderman's office alleges.
Shares of Sprint Nextel (S, Fortune 500) fell 5% on the news.
The company released a statement saying the case is "without merit."
Sprint says it "categorically denies" the allegations, and added: "We have collected and paid over to New York every penny of sales taxes."
If the state's case is proven and back taxes are owed, Sprint customers could technically be on the hook, a point the state makes in its lawsuit. But Schneiderman's office made clear that wants the company itself, not its customers, to foot the bill.
It's also seeking to let Sprint's current New York customers end their contracts early without having to pay termination fees.
Whistleblower law: The Sprint case is the first-ever tax enforcement suit filed under the New York False Claims Act. That law allows whistleblowers and prosecutors to take legal action against companies or individuals accused of defrauding the government.
It also requires liable companies to pay triple their tax underpayments. That would be quite a blow to Sprint, which lost nearly $2.9 billion last year on sales of $33.7 billion.
Whistleblowers are eligible to receive up to 25% of any cash the government collects as a result of the information they provided.
Schneiderman's office confirmed that the Sprint case began with a whistleblower lawsuit, which was filed in New York State Supreme Court in March 2011.
The attorney general's case claims Sprint's alleged tax underpayment "arose out of a nationwide effort by Sprint to obtain an advantage over its competitors."
Sprint's tactic made its plans cheaper than its rivals by a collective $4.6 million per month, Schneiderman claims.