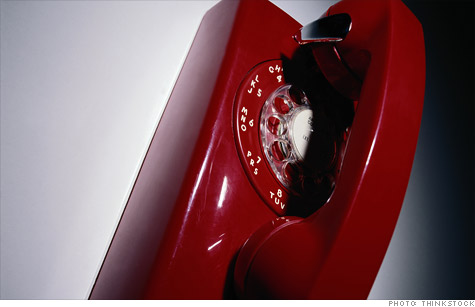 NEW YORK (CNNMoney) -- AT&T sold off its Yellow Pages service on Monday, shedding yet another legacy business from its days as a landline giant.
Now that wireless represents the main revenue driver and primary focus for AT&T (T, Fortune 500) and Verizon (VZ, Fortune 500) -- both with roots as Baby Bells -- is it time to get rid of the whole landline business altogether?
It's clear that landlines' best days are behind them. Nearly 32% of American homes are now cell phone-only households -- double the rate from 2008 and nearly triple that of 2007, according to a recent government study.
Sales are plunging. Verizon's landline revenue has fallen 19% since 2007, and AT&T's is down 16.5% over same period.
Still, it's unlikely that the nation's two biggest telecom giants will ditch their landline businesses entirely. Even as consumers' usage drops, both companies have growing cable TV and broadband Internet businesses that make use of the wireline infrastructure. Also, a large number of corporate clients rely on landline service.
Cellular communications actually are mostly transmitted over wires, with just the cell phone-to-tower communication taking place over airwaves. If either company were to sell or spin off its landline business, it would need to pay hefty licensing fees to use that infrastructure, as Sprint (S, Fortune 500) and T-Mobile do today.
Landlines also make up a surprisingly large chunk of the telecom giants' sales, even as their overall volume declines. Last year, landline services accounted for 47% of AT&T's revenue and 37% of Verizon's sales.
That's not to say the telecom giants are bullish on landlines' future. Both companies are exploring the possibility of shedding much of their landline business.
AT&T CEO Randall Stephenson said last month that his company will "review its portfolio of assets," including the rural parts of its fixed line unit. Verizon already started that process by selling large chunks of its rural business in 14 states to Frontier Communications in 2010.
Analysts say AT&T will likely consider ditching its holdings in regions where it doesn't intend to deliver its U-Verse cable TV and broadband Internet service, similar to how Verizon sold off non-FiOS areas. What Verizon sold to Frontier was mostly legacy copper-based infrastructure from its 2000 merger with GTE. Its remaining landline infrastructure is now 70% FiOS-capable with fiber-optic cables.
There's one little obstacle to shedding aging landline assets: Finding someone that wants them.
"There is a serious lack of buyers on the market," says Mike McCormack, an analyst at Nomura Securities. "They don't want to take a little piece here, and a little there -- it's much easier to take a whole state."
Frontier is having a difficult time with its Verizon assets. The company's sales have fallen in each of the six quarters since the Verizon deal closed. Other potential bidders like Windstream (WIN) and CenturyLink (CTL, Fortune 500) have made it clear that they have no desire to get any bigger.
The most likely scenario would be a spin-off, analysts say.
So if selling the whole business isn't an option, what can be done about the dwindling sales numbers?
Not a whole lot.
"The enterprise business is very cyclical, so if the economy turns, you'd think that would improve a bit," said Kevin Smithen, analyst at Macquarie Securities. "As for the consumer, AT&T and Verizon spend a lot of time and effort promoting U-Verse and FiOS, so they're hopeful of a changing dynamic. That's pretty much their near-term strategy."
In other words, the carriers are crossing their fingers that consumers will be lured in by triple-play deals.
But after getting rid of legacy businesses like the Yellow Pages, phone rentals, Bell Labs research and rural copper lines, AT&T and Verizon are pretty much stuck with the odds and ends that are left.