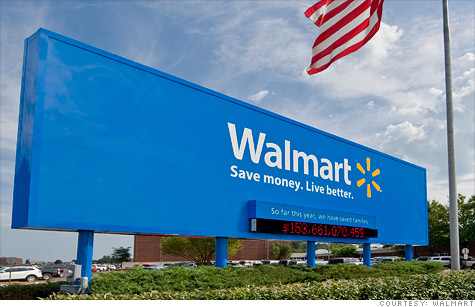 Wal-Mart has been investigating bribery allegations at its Mexican operations since 2011.
NEW YORK (CNNMoney) -- Wal-Mart says it has been conducting an "extensive investigation" since 2011 into its compliance with a federal law that prohibits American companies from bribing foreign officials.
The statement came in response to a New York Times article published online Saturday alleging that top executives in Wal-Mart (WMT, Fortune 500) Mexican division attempted to conceal a widespread bribery scheme from the company's headquarters in Bentonville, Ark.
The Times story alleges that executives at Wal-Mart headquarters -- including former CEO H. Lee Scott -- were more concerned with damage control from the matter than with correcting the situation.
The allegations date back to 2005, when a former Wal-Mart de Mexico executive supposedly e-mailed one of Wal-Mart's senior lawyers, spelling out how the company had paid more than $24 million in bribes to secure construction permits throughout Mexico.
The Times said its investigation included 15 hours of interviews with former Wal-Mart executive Sergio Cicero Zapata, who said he had personally facilitated many of the alleged payoffs, which bought zoning approvals and cleared bureaucratic hurdles.
Cicero allegedly pointed to Eduardo Castro-Wright, who was CEO of Wal-Mart de Mexico from 2003-2005, as one of the main proponents behind the payoffs. Castro-Wright has not been disciplined and his role remains unclear, according to the Times.
Castro-Wright was a popular figure within Wal-Mart, and hailed for his success at Wal-Mart de Mexico, according to the Times. Under his leadership, Wal-Mart de Mexico's net sales grew by 25%, according to a 2005 annual report. Castro-Wright was promoted to chief operating officer of Wal-Mart USA in 2004, quickly moving up to become CEO of the U.S. division a year later. In 2008, he was promoted to vice chairman.
According to the Times, Wal-Mart acted on the information by swiftly conducting its own investigation -- and then just as swiftly moving to conceal it from U.S. and Mexican authorities.
"We are working hard to understand what occurred in Bentonville more than six years ago and are committed to conducting a complete investigation before forming conclusions," said David Tovar, Wal-Mart's vice president of corporate communications.
He added that Wal-Mart has already met with the U.S. Department of Justice and the Securities and Exchange Commission, and that it disclosed the investigation to shareholders in a regulatory filing in December.
Tovar said the company initiated a review of its worldwide anti-corruption practices and policies a year ago.
"We are committed to getting to the bottom of this matter," he said, adding that Wal-Mart has taken a number of steps in Mexico to strengthen its compliance with the U.S. Foreign Corrupt Practices Act.
Along with its joint venture partner, Wal-Mart owns 2,099 stores in Mexico, including 213 Walmart Supercenters and 126 Sam's Clubs. Wal-Mart employs nearly 190,000 associates in the country, according to its website.
Wal-Mart shares closed Friday at $62.45 each. The stock has risen about 4.5% so far this year, lagging discount store competitors such as Target (TGT, Fortune 500), Sears Holdings (SHLD, Fortune 500) and Costco (COST, Fortune 500).