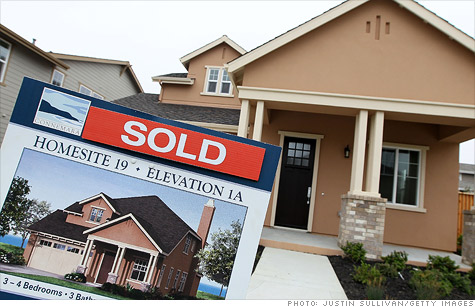 NEW YORK (CNNMoney) -- While sales of new homes slowed in March, government figures for the previous two months were revised sharply higher Tuesday, pointing to a solid winter rebound in the housing market.
The Census Bureau reported that sales of new homes in the month came in at an annual pace of 328,000 when adjusted for the season. That was down 7.1% from the 353,000 sales pace in February -- but that February figure was revised up by 40,000 from the reading issued last month.
The improvement was reflected by the year-over-year data, which showed a 7.5% increase in March.
January new-home sales were also revised higher by 11,000, to a 329,000 annual rate.
The long-battered housing market has been showing signs of recovery so far this year, helped by low prices, record low mortgage rates and some pick-up in hiring that has lowered the unemployment rate. It is now cheaper to buy a home than rent in much of the country.
Home building also has picked up, with home builders taking out many more permits to start new homes. Despite the increase in building, the inventory of new homes for sale fell to 144,000, the lowest reading ever on records that go back to 1963.
But Tuesday's report, as well as earlier readings on sales of existing homes, shows a housing market that is still much less active than historical averages, let alone compared to the housing boom of the last decade.
A significant portion of the sales and home listings are either short sales for less than is owed on a mortgage or foreclosures, both of which depress home values and can keep nervous buyers on the sidelines. A separate report Tuesday showed home prices at a new post-bubble low.
The median price of a new home sold in March was $234,500, according to Tuesday's report, down $2,400 from February's reading, but up $14,000 from a year before.