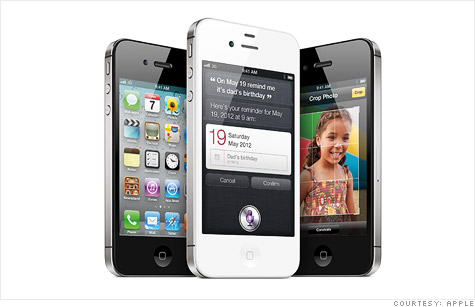 Apple sold 35.1 iPhones last quarter, soundly beating analysts' estimates and giving related companies' stocks a big boost on Wednesday.
NEW YORK (CNNMoney) -- Apple isn't the only stock benefiting from its blowout second quarter, during which it sold many more iPhones than expected. Shares of companies that make chips or accessories for iPhones also rode the good-news wave.
Apple (AAPL, Fortune 500) shares ended Wednesday's session 8.9% higher, after the company said late Tuesday that it nearly doubled its profit last quarter. The most striking data point: Apple handily beat analysts' expectations for iPhones, selling 35.1 million during the first three months of the year.
Several players in the iPhone ecosystem also got a boost on Wednesday, including several semiconductor makers. The smaller companies in that bunch gained the most: Cirrus Logic (CRUS) added more than 11%, Triquint (TQNT) rose 7.6% and Skyworks Solutions (SWKS) ended more than 6% higher.
Two bigger semiconductor companies also rose solidly: ARM (ARMH) gained 2.7% and Qualcomm (QCOM, Fortune 500) rose 2.3%.
But Wednesday's action wasn't all about the semiconductors. Shares of Omnivision (OVTI), which makes camera sensors for the iPhone, jumped 8.8%.
Even one company that doesn't make parts for the iPhone is often able to coast on good news from Apple. Zagg (ZAGG), a maker of popular iPhone accessories like cases and screen protectors, added 7.5%.
The next earnings report could be a different story. Apple expects iPhone sales to fall in the current quarter compared with last quarter -- though it predicts sales of its iPad tablet will rise.