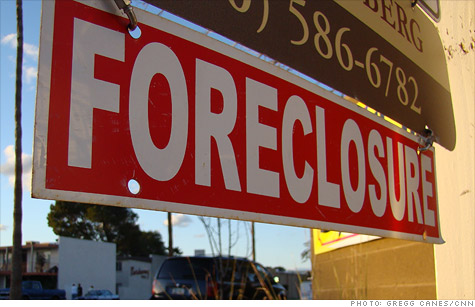 Now that the $26 billion robo-signing settlement is in place, banks should be more free to pursue foreclosures again.
NEW YORK (CNNMoney) -- There is more evidence that the foreclosure logjam is breaking up.
Filings are spiking in areas where judges had held up foreclosures because of robo-signing allegations, according to a report on 212 metro areas released Thursday by RealtyTrac, which markets foreclosed properties.
In Florida, for example, virtually all cities reported jumps in foreclosure filings in the first quarter. In Miami, filings went up 37%, year-over-year. In Orlando it was 52% and Palm Bay it was 148%.
"[L]ong-dormant foreclosures are coming out of hibernation in many local markets," said Brandon Moore, RealtyTrac's CEO.
The robo-signing scandal, which broke in fall 2010 and involved lenders using suspect legal documents, slowed things down dramatically in states where judges are involved in the foreclosure process.
In states like Florida, lenders were reluctant to bring foreclosures in front of judges who might find the paperwork suspect.
The impact of the robo-signing scandal on the pace of foreclosures was dramatic. Most Florida cities came close to a dead stop starting in late 2010.
Miami reported about 58,000 filings in the quarter prior to when the scandal broke, according to RealtyTrac spokesman Daren Blomquist. That dropped to 19,000 in the first quarter of 2011. The current level is about 26,000.
On the other hand, California was less affected by the robo-signing scandal and remained steady throughout. In California, foreclosures are in the hands of title insurance companies and other trustees that give foreclosure paperwork less scrutiny than courts do.
Since foreclosures didn't slow as much in California, cases were flushed out of the system. So its cities reported year-over-year declines in the first quarter.
Stockton, Calif., the hardest hit metro area in the nation during the first three months of 2012, with a filing for every 60 households, recorded a 19% drop in foreclosures.
In Los Angeles, filings fell 24% and in Merced they declined 28%.
Cities in nearby so-called nonjudicial states followed the script: Las Vegas filings plunged 61% and Phoenix filings fell 43%.
Now that the $26 billion robo-signing settlement is in place, banks should be more free to pursue foreclosures again. Look for them to pick up over the next few months, according to Blomquist.