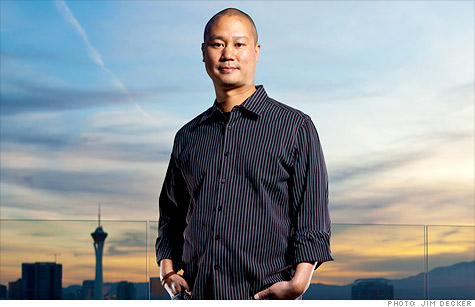 Tony Hsieh: "Focus on friendships as their own reward."
FORTUNE -- "Fred Mossler and I joined Zappos at the same time in 1999. Early on, it was hard to get brands to sign up. The traditional mentality for a lot of retailers was: Squeeze your suppliers. I didn't come from a retail background, but Fred did. Before Zappos he was with Nordstrom (JWN, Fortune 500). I thought I should be negotiating hard, but Fred was focused on coming up with win-win situations. He told me to build relationships for the sake of the relationships. That really shifted my thinking.
"Six years ago Fred had a friendship with a rep for a small brand. The brand's contribution to our sales was insignificant, so going to a dinner with him during a shoe show, when there were hundreds of other brands there, didn't make a lot of sense. But it was still something Fred prioritized, based on the friendship. A week after the dinner, Fred's friend became president of a major brand we had been trying to get. If you're focused on the friendship as its own reward, serendipitous stuff just happens. I know that sounds weird, but I can tell you for our 12 years of existence, it's actually how a lot of stuff happens."
Tony Hsieh
Age: 38
Job experience: Co-founder of LinkExchange, an Internet advertising network; co-founder of Venture Frogs, an investment firm that put money into Zappos and OpenTable (OPEN), among others; later became CEO of online shoe and clothing retailer Zappos.com, which in 2009 reached $1 billion in gross sales.
Claim to fame: In 1998, Hsieh (pronounced shay) sold LinkExchange, which he co-founded, to Microsoft (MSFT, Fortune 500) for $265 million. In 2009, Zappos was acquired by Amazon (AMZN, Fortune 500) for $1.2 billion. His 2010 book, Delivering Happiness, is about the blissful (and successful) corporate culture at Zappos. In March, Zappos set the Guinness world record for Most Simultaneous High Fives.