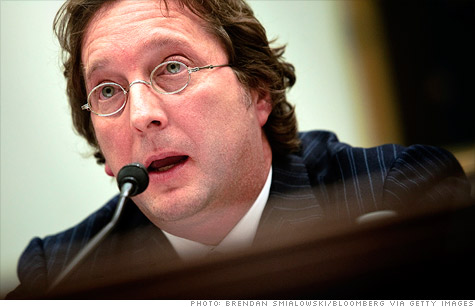 Philip Falcone will step aside from his LightSquared directorship.
NEW YORK (CNNMoney) -- Philip Falcone, founder of hedge fund Harbinger Capital Management, told investors Monday that he would soon cede control of wannabe wireless carrier LightSquared.
Though he didn't give a specific timeframe, Falcone said LightSquared will be handed over to an independent board. That's something Falcone has long been in favor of, and he has said in the past that he would step aside once a board is put into place.
Falcone is a LightSquared director and has been pushing to keep the company going and out of bankruptcy. That's been complicated by U.S. regulators barring the company from turning on its network, citing interference concerns with GPS devices.
As the prospect of regulatory approval dims, LightSquared's investors have increased pressure on Harbinger to sell the company's assets to another wireless carrier. Falcone believes LightSquared still has some options available to it, including swapping wireless spectrum with another company or government agency, which would negate interference issues.
There was a deadline of 10 a.m. ET on Monday at which LightSquared had to declare bankruptcy if a deal with lenders hadn't been reached. But Falcone's decision to step down persuaded LightSquared's creditors to extend the deadline another week. The extension was widely expected to be granted.
LightSquared has more than $5 billion in funding -- $2.9 billion from Harbinger and $2.3 from outside lenders and investors. The company has ambitions to become the country's fifth nationwide wireless carrier by going toe-to-toe with giants such as Verizon (VZ, Fortune 500) and AT&T (T, Fortune 500).
But those dreams began to unravel in February, when LightSquared failed to convince the Federal Communications Commission and the National Telecommunications and Information Administration that its network would not interfere with GPS signals. CEO Sanjiv Ahuja stepped down two weeks later, and in March, Sprint Nextel (S, Fortune 500), ended its $9 billion agreement with the company.
Falcone remains a believer. The company is sitting on a truckload of valuable wireless spectrum, and as smartphone and tablet sales soar, LightSquared hopes to enter the wireless market as a wholesale provider of 4G service.
"Everybody wants mobility ... and everybody wants not only connectivity but everybody wants instantaneous connectivity," Falcone said in a recent interview with CNN. "They want the world at their fingertips. Well, there's only one way that you can do that: wireless."
The interview will air in two parts on Tuesday and Wednesday during the 2 p.m. ET hour of "Quest Means Business" on CNN International.
Falcone said he bought LightSquared in 2010 because he foresaw the growing need for wireless spectrum, which he describes as a "finite asset like coal or oil." He also said that he believed at the time regulatory approval was in the bag.
"They had the green light to build out 30,000 or 40,000 towers," Falcone told CNN. "They had all the ingredients in the tool box already done, which is why I stepped in. I wouldn't have done it had they not had that."
When it became clear that LightSquared was going to face some hurdles, Falcone barnstormed Washington, an approach he said in hindsight was "too big of a hammer."
But he said the battle for LightSquared is far from over.
"We believe that the law is on our side," Falcone said. "We're ready, willing and able to have an open discussion to solve this problem because I think it's too critical -- it's too important for this not to be solved. It's much bigger than LightSquared -- this is about regulatory policy."
-- CNN's Felicia Taylor contributed reporting to this story