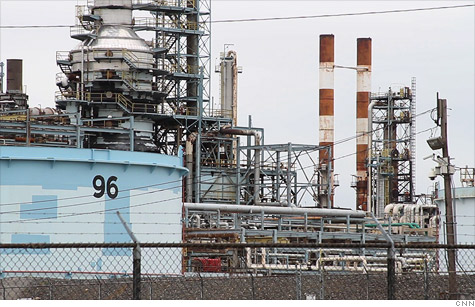 Why does Delta think it can make money running a refinery when the oil companies can't?
NEW YORK (CNNMoney) -- Delta's decision to buy an oil refinery earlier this week is certainly bold, possibly unique and perhaps an inspiration to anyone who wished they could stick it to Big Oil and make their own gas.
But, for Delta, it's definitely risky.
In laying down $250 million for Phillips 66's Trainer refinery just outside Philadelphia, Delta is betting that it can do what ConocoPhillips and every other oil company that considered buying the refinery evidently couldn't -- profitably make fuel at an old facility that relies on the most expensive type of crude on the planet.
"'Plants shut for a reason, and it's not usually the incompetence of their owner," said Kevin Waguespack, vice president of the energy consultancy Baker & O'Brien. "How can Delta do any better than a large, sophisticated refiner like Conoco?"
Delta (DAL, Fortune 500) certainly has some things going for it in the deal.
It paid $150 million for the facility, which at the height of the refining boom five years back was probably worth ten times that, said Ben Brockwell, an analyst at the Oil Price Information Service.
Delta will put in another $100 million to upgrade the refinery to squeeze out as much jet fuel as possible. Delta plans on turning 32% of each barrel of oil into jet fuel when it's done the upgrade later this year. That compares to 14% previously at the plant. Jet fuel is generally one of the more valuable refined products.
The other parts of the oil barrel will be turned into gasoline and other refined products, which Delta will swap with Phillips 66 and BP for jet fuel. BP (BP) will also provide the crude oil at an undisclosed price for a three-year period.
The refinery plus swap deals will ultimately provide Delta with 80% of its fuel in the United States.
Delta has noted that it's not costing it much -- $250 million is the price of a single wide-body airplane. Delta says the move will save the company $300 million a year.
But if it's that easy to make the deal profitable, why didn't one of the oil companies do it?
While airline analysts seem to think Delta made a good move, energy analysts are a bit more suspect.
"When I first heard the news, it didn't make sense," said Brian Milne, refined fuels editor at DTN, an information provider. "I'm still a little perplexed."
Phillips 66, which was part of ConocoPhillips (COP, Fortune 500) until the oil giant spun it off Tuesday, didn't return a call seeking comment.
A Delta spokesman said oil companies didn't do it because the jet fuel market is simply too small for most oil companies to be bothered with.
In a filing with the Securities and Exchange Commission on the deal, Delta said it paid $2.2 billion in "product markup" on its total 2011 fuel bill of $12 billion. In buying the refinery, Delta is hoping to capture that markup.
Leaving the refining biz: Integrated oil companies, in general, have been shifting away from refining, especially in the United States. Demand for refined products in developed countries is dropping. The big money is in producing crude oil. So retooling an old refinery may not fit into oil companies' business plans anymore.
For Delta, analysts said the move was just as much about securing a dependable supply of jet fuel as it was about cost savings. By controlling the refinery, Delta doesn't have to worry about a possible shortage of jet fuel or future price spikes in jet fuel.
But refining, like any commodity, is a cyclical business. Delta might have a good deal lined up with BP and Phillips 66 now, but what happens three years from now when those deals need to be renegotiated and prices are different?
"One of their trading partners might say 'you know, this just isn't' working out,'" said Brockwell.
That could be the real risk the oil companies are looking to avoid. If the economics of Delta's deal change, the refinery could end up losing money.
Delta "runs the risk of actually increasing their jet fuel prices by having to subsidize the refinery's operations," said Baker & O'Brien's Waguespack.