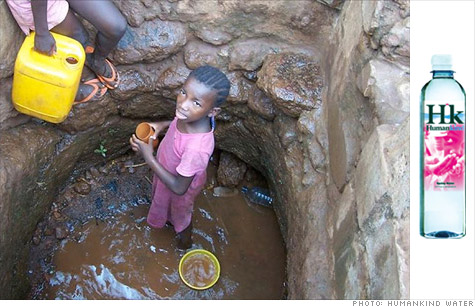 HumanKind Water, a bottled water company on a mission to provide clean water, wins top prize in Wal-Mart's product contest.
NEW YORK (CNNMoney) -- HumanKind Water, a bottled water company that touts its social conscience, won the most votes -- and the top prize -- in Wal-Mart's "American Idol"-like contest.
As grand prize winner, the Philadelphia-based company will soon have its bottled water sold at up to 3,800 Wal-Mart stores nationwide and on Walmart.com.
"I am thrilled," said T.J. Foltz, president of HumanKind Water, which sources its product from the Poconos Mountains. "We knew people were voting for us like crazy. But we had no idea we'd win."
Scoring a deal with the world's largest retailer is like hitting the jackpot for a small business vendor. For Foltz, it's especially significant since his product just launched last October.
More important to him, though, is the exposure he hopes this win will bring to the cause behind HumanKind Water.
Foltz said 100% of net profits from its sales will go toward developing clean water wells, water filtration systems and rain catchment systems in underdeveloped communities in Haiti, Africa and Asia.
"Ten thousand kids die every day because of lack of clean drinking water and poor sanitation from contaminated water," he said. "Every one of these deaths can be prevented."
Foltz is a Christian minister who witnessed the need for clean water firsthand during trips overseas. That experience inspired him to develop HumanKind Water and devote himself fully to his company.
"Children dying is everyone's business," said Foltz, adding that there is nothing religious about HumanKind Water. "In our mission to end this, we're not reaching out to one faith or another."
Wal-Mart (WMT, Fortune 500), the world's largest retailer, is announcing the winner at a time when it's also trying to manage the fallout from allegations that it bribed its way to dominance of Mexico's retail industry.
The retailer launched its "Get on the Shelf" competition January 18, giving three small businesses, entrepreneurs or inventors a first-ever chance at winning virtual shelf space through Walmart.com. The grand prize winner also gets a spot on Wal-Mart store shelves nationwide.
More than 4,000 contestants submitted video entries of their product; the retailer let the public vote on their favorites.
The contest drew more than 1 million votes in total, said Wal-Mart spokesman Ravi Jariwala. HumanKind Water captured the highest number of votes, followed by PlateTopper and SnapIt Eyeglass Repair Kit.
PlateTopper is a 100% BPA-free plastic cover that transforms plates into airtight food storage containers. SnapIt is a patented screw kit designed to fix sunglasses and eyeglasses in 30 seconds. These two products will sell on Walmart.com, but not in stores.
All three winning products will have an online banner touting them as the contest winners, said Jariwala. HumanKind will also get a special display in Wal-Mart stores.
Wal-Mart is assessing the three winners' marketing and production capabilities, he added, and will give the three winners help ramping up if they need it.
Holding a public contest to find a vendor is an unusual departure for Wal-Mart.
The discounter is notoriously strict in selecting products. Prospective suppliers meet with Wal-Mart's in-house buyers at the Bentonville, Ark., headquarters in small rooms lining a bluish-gray corridor unofficially referred to as "vendor row."
There, they get an hour tops to pitch their products and convince Wal-Mart buyers why they should stock them.
But for vendors of HumanKind Water, PlateTopper and the SnapIt Eyeglass Repair Kit, all this is unnecessary.
PlateTopper will begin selling on Walmart.com on May 3, while SnapIt Eyeglass Repair Kit will start selling online in the near future. HumanKind Water will launch on Walmart.com and in its stores nationwide soon after, the store said.
Wal-Mart hasn't made any decisions yet whether to repeat the contest in the future, Jariwala said.
"Our focus at this point is on evaluating the success of this contest," he said.