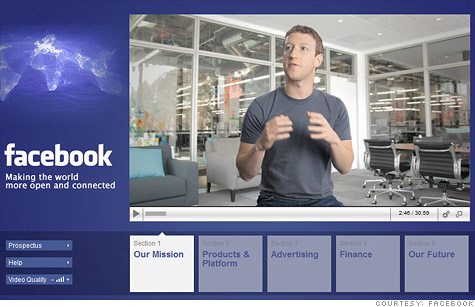 Facebook's digital road show offers a peek at the pitch it's making to investors.
NEW YORK (CNNMoney) -- Facebook CEO Mark Zuckerberg tends to play recluse with investors, but he has a starring role in the digital "road show" Facebook released late Thursday.
The road show is a hallowed ritual for a company pursuing an IPO. Top executives meet privately with large and powerful investors, fielding their questions and pitching them on the company's prospects.
Facebook's executives are scheduled to kick off their road show tour Monday in New York. Over the next two weeks, they'll make stops in Boston, Chicago, Denver and Menlo Park, Calif.
Those meetings are exclusive and closed to ordinary investors. But several years ago, the U.S. Securities and Exchange Commission altered its rules and began encouraging companies to broadcast a version of their road show on the Internet.
Facebook's digital road show went live late Thursday. It will remain online only until Facebook begins trading publicly, which is currently on track to happen on May 18. Facebook is seeking to raise up to $13.6 billion in an offering that could value the company at up to $75 billion.
In Facebook's 30-minute road show video, Zuckerberg appears along with Chief Operating Officer Sheryl Sandberg, Chief Financial Officer David Ebersman and product head Chris Cox. In a series of short talks, they outline Facebook's mission, product, advertising business, finances, and their vision for the future of the company.
Zuckerberg kicks off the pitch with a story about his experience growing up with the Internet. He talks about his interest in using Google (GOOG, Fortune 500) and other search engines -- and his sense that there was a gap in what they offered.
"The thing that was missing was people," Zuckerberg said. "There wasn't any way for that to be on the Web. Even from very early on ... there was this concept of what this could turn into."
Sandberg offered a rundown on Facebook's selling points, including its vast global audience of 900 monthly active users, plus all the data they generate every time they click a "like" button. Facebook currently collects an average of 3.2 billion "likes" and comments each day, and it's now the Internet's largest photo repository, with more than 300 million photos added daily.
"Facebook enables businesses to have active conversations with customers," Sandberg said. "People are themselves on Facebook."
Sandberg emphasized that an advertising message is more powerful when it's shared socially. "We're all more likely to remember something with a friend," she said.
Facebook's video features several advertising "success" stories, including one from Ben and Jerry's and another from American Express (AXP, Fortune 500), which used ads on Facebook to spread the word about a campaign to help small business owners.
Another point the company hammers home is its escalating commitment to the mobile realm. Facebook, which just shelled out $1 billion to buy buzzy mobile startup Instagram, has faced criticism for being too focused on the Web and neglecting its mobile apps.
Ebersman said the company is in a "heavy investment" phase. "We believe mobile use of Facebook is critical to long-term user engagement," he said.
Ebersman acknowledged that mobile advertising is lacking in innovation -- a potential red flag for investors considering Facebook's growth prospects.
"Expect us to invest heavily in mobile," he said. "Even if mobile monetization is uncertain and will take time."
In early 2012, Facebook introduced "sponsored stories" on its mobile apps, a move aimed at helping it generate revenue on a platform other than the Web. Mobile advertising is still in its early days, Ebersman said.
In his closing remarks, Zuckerberg emphasized the power of social and sharing. Echoing statements he makes frequently about Facebook's goal of making the world a more open place, Zuckerberg talked up the company's hacker culture and sketched out his vision of a world where Facebook dominates the social networking space.
"I think we're going to reach this point where almost every app you use is integrated in Facebook in some way," Zuckerberg said.