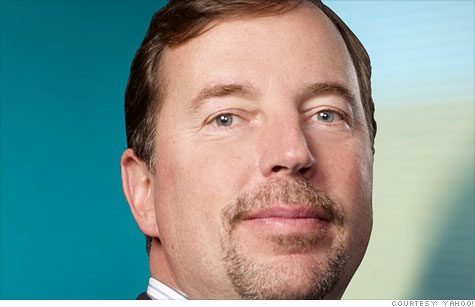 Former Yahoo CEO Scott Thompson may have to get his checkbook out.
NEW YORK (CNNMoney) -- Depending on how ousted Yahoo CEO Scott Thompson is officially let go, he could owe the company $7 million on the way out the door.
Yahoo (YHOO, Fortune 500) has not yet released the terms of Thompson's departure deal, but if he resigns, he'll be required to pay back some of the sizeable up-front bonuses he received when he was hired in January, according to his employment agreement.
Thompson got $1.5 million in cash on Feb. 10 and $5.5 million in stock on March 15 to compensate him for the bonus and stock awards he would have received from his previous job as the president of eBay (EBAY, Fortune 500) subsidiary PayPal.
His contract states that those bonuses "become due and payable by you to Yahoo on your last day of employment" if he "voluntarily" resigns from the company within a year of his start date.
Thompson left the company just four months into his tenure, far short of the one-year mark. His departure came amid a firestorm over the discovery that his official Yahoo bio embellished his academic credentials, claiming a dual degree in "accounting and computer science." Thompson's actual degree is only in accounting.
But is he resigning, being fired for cause, or being let go "without cause"?
Millions hinge on the answer -- and Yahoo isn't saying yet which it is. Its Sunday announcement of Thompson's departure simply said that he "has left the company." A Yahoo representative declined to comment further.
If Thompson resigns, he will owe the company that $7 million in cash and get no additional severance.
If he's fired for cause, he'll take home nothing extra and get no severance benefits -- but he apparently won't have to repay the $7 million he already received in cash and stock grants. Thompson can be fired "with cause" if he is found to be "engaging in unprofessional, unethical or other intentional acts that materially discredit the company," according to his contract.
If he's ultimately fired "without cause," he'll get to keep the bonuses he received, and he'll get early vesting on an additional $1 million of stock that he was supposed to be granted in March 2013.
No matter how Thompson is officially let go, he won't take home his 2012 performance bonus, which he was not eligible to receive until early 2013. The bonus could have been worth as much as $2 million, but to collect, Thompson would have to be still employed by Yahoo at payout time. He'll also miss out on an $11 million long-term stock award.
But he won't leave empty-handed. Regardless of how he departs, Thompson's contract lets him keep a $5 million stock award he was given in February as a signing bonus. He also collected $375,000 in salary during his short tenure.
Yahoo has burned through seven CEOs since May 2001, but it's generally been surprisingly frugal in its farewells.
Carol Bartz, who was fired in September, was the only ousted CEO to take home millions. Though Yahoo hasn't yet reported her final payout, she was eligible to take home up to $5 million in cash and stock valued at $5.2 million.
Yahoo founder Jerry Yang received just $1 as salary and no bonus when he returned as CEO from June 2007 to January 2009. He didn't receive a severance package when he resigned.
When Terry Semel resigned as CEO in June 2007, he remained with the company as its non-executive chairman, so Yahoo didn't give him a severance package. Tim Koogle, who resigned in May 2001, also didn't take home any severance because he remained on the company's board.
Tim Morse, Yahoo's chief financial officer, served as interim CEO from September 2011 to January 2012. At the start of that run, Yahoo boosted his annual pay by $150,000. Pro-rated, Yahoo spent $43,750 on Morse's interim tenure.