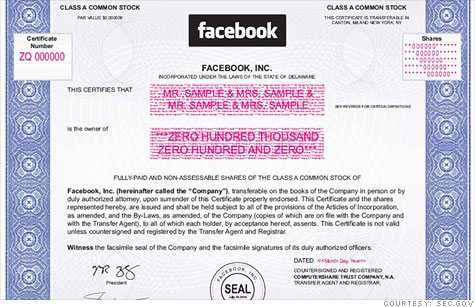 There will be 25% more Facebook shares sold in its upcoming IPO, according to a company filing.
NEW YORK (CNNMoney) -- Facebook announced Wednesday that 25% more shares of the company will be sold in its planned initial public offering later this week.
The additional shares, disclosed in a filing with the Securities and Exchange Commission, could fetch an extra $3 billion, bringing the total raised through the initial share sale to as much as $16 billion. The offering will now sell 421.2 million shares, up from 337.4 million shares that it had previously announced plans to sell.
If the company sells $16 billion in shares as expected, it would be the largest tech IPO in history, and the third largest U.S. IPO ever, trailing only the $19.7 billion raised by Visa (V, Fortune 500) in March 2008, and the $18.1 billion raised by automaker General Motors (GM, Fortune 500) in November 2010, according to rankings by Thomson Reuters. It would also be the 11th largest global IPO in history.
The additional shares will be sold by selling shareholders of the company, not by the company itself, which will stick with previous plans to sell 180 million shares. The 241 million shares being sold by those other shareholders is a 53% increase from their previous plans.
Founder Mark Zuckerberg is not selling any additional shares himself, sticking with his previous plan to sell 30 million shares, or just less than 6% of his Facebook holdings.
Zuckerberg has said he is selling shares to cover his expected tax bill from the IPO that could top $1 billion. After the offering, he will hold 503.6 million shares, or about 31% of the company. That stake would be worth $19.1 billion if shares can maintain a $38 price.
But Zuckerberg also holds the voting rights for 584.9 million other shares, shares mostly held by other executives and early investors in the company. There will be an 34% increase of number of those shares being sold, up to 95.8 million from 71.1 million shares previously being sold.
In addition, some early investors in Facebook are increasing the number of shares they're offering. James Breyer of Accel Partners, the largest shareholder outside of Zuckerberg, is upping how much of his stake he's selling by 10.8 million shares. He now plans to sell 49 million shares, or about a quarter of his Facebook holdings.
Facebook has been reporting strong demand for its shares. On Tuesday, it raised the price range for the offering to between $34 to $38 a share, up from its previous range of $25 to $35 a share set earlier in the month.
The final pricing is expected after the market close Thursday, with shares due to begin trading Friday morning.
Investor demand for Facebook shares has been "nothing short of pandemonium," one source familiar with the discussions told CNNMoney.
Even with the greater number of shares being sold, only a fraction of Facebook's overall shares outstanding will be on the market after the IPO. The total shares expected to be outstanding after the offering was left unchanged in this filing.
The greater number of shares in this week's offering means that there will be about 13 million, up to 63 million, in additional shares in the so-called overallotment being sold to by the Wall Street firms handling the offering.
Many Facebook employees and executives, including founder Mark Zuckerberg, hold unexercised stock options. The company itself is also holding some shares for future employee equity grants. If all of those shares come into the market, Facebook's 2.8 billion shares outstanding would value the company at more than $106 billion.
-- CNNMoney's Stacy Cowley and Julianne Pepitone contributed to this report