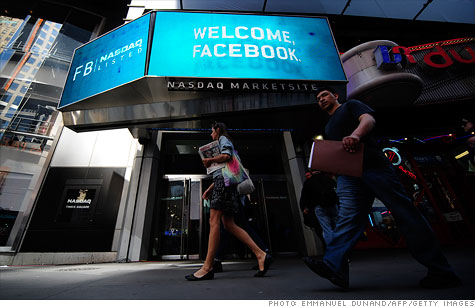 Silicon Valley's view of Facebook's IPO is much more upbeat than Wall Street's.
NEW YORK (CNNMoney) -- While Wall Street freaks out about an IPO it views as a disaster, the view of Facebook's rocky public debut is much sunnier in Silicon Valley.
Some in the tech trenches are shrugging off the problems -- Nasdaq's meltdown, the stock's volatility, the questions about whether Facebook tipped some analysts off about its dimming financial prospects -- as Wall Street business as usual.
"That's the third IPO I watched closely for a startup," said Gordon Gooch, the founder of New York-based 'sell your skills' marketplace Zoondy. "All of them had something weird and shady going on. It doesn't surprise me."
At TechCrunch Disrupt, a three-day New York tech conference that opened Monday morning, much of the cocktail chatter focused on Facebook's IPO. The general mood was upbeat. Tech investors and entrepreneurs are confident that Facebook -- and its stock price -- will be just fine in a few months.
Outbid chief product officer Bob Lee, who purchased Facebook stock, says he's investing and holding.
"I didn't care what price I bought it at," Lee told CNNMoney. "For the long term, it's a good buy. You've got such a high percentage of the worlds' eyeballs on Facebook."
Several people said they see Facebook's stock stagnation as a good sign. An IPO raises cash for the company selling the shares -- Facebook collected more than $6 billion -- but the company gets its payout based on its actual IPO price. If its share price soars in later trading, the profits from that rise go to the investors who bought the stock, not the company itself.
"I think they priced it really well in that they didn't leave much value for investors," Ark.com CEO Patrick Riley said of Facebook's underwriters, including lead banker Morgan Stanley. (MS, Fortune 500) "They found what demand was and maximized it. That's their job."
Romil Patel, the founder of video messaging app maker SayClip, echoed that view.
"Facebook not popping on IPO day just means that they priced the shares correctly, which rarely happens, and raised the fair amount of cash the company was aiming for," he said
Patel points to Amazon's 1997 IPO as a similar example. Priced at $1.50 (after adjusting for later stock splits), Amazon's shares closed at or below their offering price for 6 of their first 14 days of trading. They now trade at around $216.
"Look at the company now," Patel said of Amazon (AMZN, Fortune 500). "Facebook has the power to do the same."
On stage at the conference, tech pundit and investor Michael Arrington asked Sequoia Capital's Roelof Botha whether Facebook was overvalued. Botha skirted the question, calling Facebook's impact "tremendous."
"Ultimately, it's up to Facebook's management team," Botha said.
Count AOL founder Steve Case, now an active tech investor, as one of that team's fans.
"Facebook is a terrific brand, and Mark [Zuckerberg] and Sheryl Sandberg have done a terrific job," he told CNN's Erin Burnett this week.
He thinks the concerns about Facebook's post-IPO prospects are overblown.
"The markets go up and down," Case said. "As long as you keep focusing on the product and keep innovating, that's really what matters. You can't pay too much attention to the stock price."
How much is Facebook really worth? Nasdaq's errors and trading maneuvers by stock flippers contributed to the company's stock swoon, but analysts have warned repeatedly that Facebook's financial fundamentals don't support a sky-high valuation. Facebook (FB) closed Tuesday at $32, giving the company a market cap of around $66 billion.
Techies think there's plenty of room for that to grow.
As former Microsoft engineer Idan Beck put it: "I think that Facebook has brought a very interesting value to the world that perhaps traditional markets are not ready to ascertain. Over time, people will understand."
The company is frequently compared to Google (GOOG, Fortune 500), which drew similar skepticism around its 2004 IPO for its seemingly lofty valuation. The criticisms aimed at Facebook -- that its best years are behind it -- sound eerily familiar.
Here's one financial analyst's view of Google, conveyed to the New York Times in 2004: ''You can't hide the fact that this thing is slowing down. There was a year of hyper-growth, and then it rolled over.''
So what happens next? In five years, will Facebook be worth more than Google? Arrington popped that question on Botha during their discussion.
Botha couldn't say. "I don't know," the veteran investor replied after a long pause.
Arrington admitted he wouldn't know how to answer the question either.
For most who work at Facebook, the past week's stock roller-coaster has little direct impact on them. The heavy majority of Facebook employees hold stock warrants that will vest six months after the IPO. The price they care about is the one Facebook will be at in November, not now.
Posters around Facebook's campus last week encouraged employees to "stay focused & keep hacking." That's what many are doing. At this week's Webby Awards -- a tech event known for its five-word acceptance speechs -- CNNMoney asked Serkan Piantino, a Facebook engineering manager, for his thoughts on Facebook's IPO.
His reply: "Cannot comment, lots to do."