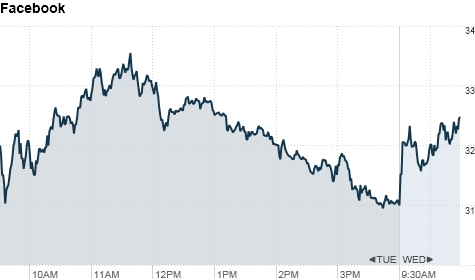 Click on chart for more Facebook stock data.
NEW YORK (CNNMoney) -- Facebook Chief Executive Officer Mark Zuckerberg can smile again, now that his company's shares have moved into positive territory on Wednesday.
Facebook's (FB) stock price rose 3.2% to $32. This is a pleasant turn of events for investors, though the stock was still down at least 15% from the closing price of $38.23 on May 18, its first day on the Nasdaq.
If Facebook closes higher on Wednesday, it will be the first positive session since Friday, when the social media company had its initial public offering and just managed to eke out a hair-thin gain.
Facebook's IPO was priced at $38 on Thursday by a consortium of 33 underwriters led by Morgan Stanley (MS, Fortune 500), and also including JPMorgan Chase (JPM, Fortune 500) and Goldman Sachs (GS, Fortune 500).
This was one of the most highly anticipated IPOs in recent memory, setting a record for first-day trading volume. But it's also one of the most disappointing. Nasdaq delayed the launch of Facebook's stock, causing confusion among investors.
Some analysts are now saying the stock is overvalued. They say company has promise considering that Facebook has more than 900 million members, but an uncertain future regarding its ability to glean advertising revenue from its legions of users.
Further complicating the stock's market debut, Morgan Stanley is now being scrutinized by regulators for reportedly leaking negative information about the IPO to some -- but not all -- of its institutional investors.
Social gaming outfit Zynga (ZNGA), which also recently made its market debut, ended nearly 4% higher on Wednesday.
Did you get burned on Facebook stock by the Nasdaq glitch? Contact Aaron Smith