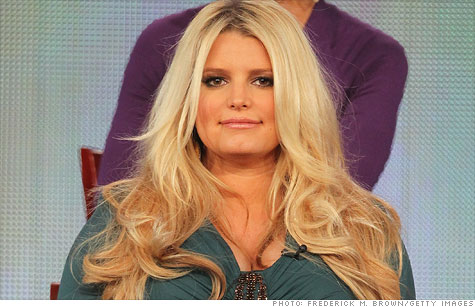 Jessica Simpson is getting paid an estimated $3 million to shed her baby weight.
NEW YORK (CNNMoney) -- Weight Watchers International and Jessica Simpson are banking on a new partnership that will make the pop star the next celebrity ambassador for Weight Watchers in North America.
Simpson, who gave birth to her daughter Maxwell on May 1, took to her Facebook page on Wednesday to share the news: "It's official, I'm joining Weight Watchers!"
A spokesman from Weight Watchers declined to comment on the financial side of the deal, but ABC News reported that the weight loss company offered Simpson $3 million.
The arrangement will allow the public to follow Simpson as she sheds weight from her pregnancy and adopts what Weight Watchers calls a "strong focus on healthy eating, behavioral change, activity and support."
Weight Watchers (WTW) could use a shot of celebrity glitz from Simpson, a social media maven with an active presence on Twitter and Facebook. The company's stock fell 25% in May after it released a disappointing first-quarter financial report showing flat sales of around $500 million.
Weight Watchers has turned to celebrity endorsements in the past to give the company a boost. The list of famous faces appearing in its marketing campaigns include Lynn Redgrave, Sarah Ferguson and Charles Barkley. The company had one of its biggest hits last year, when "American Idol" finalist Jennifer Hudson dropped several dress sizes and an estimated 80 pounds.
The success of Hudson's campaign may explain why the company upped its marketing spending last quarter to $130 million, up 36% from a year earlier. That dug into its earnings, which dropped 25%, to around $55 million.
Not every celebrity weight loss endorsement ends with pounds shed and profits gained. Actress Kirstie Alley and singer Carnie Wilson were once spokeswomen for weight loss companies Jenny Craig and The Fresh Diet respectively, but both women ended their roles as endorsers and halted their campaigns after failing to stick to their goals.
Weight Watchers says it has faith that Simpson will beat the bulge.
"Her talent, resilience and positive outlook already make her a great role model," the company said. "And by deciding to trade in yo-yo dieting for a healthier lifestyle, we know she will inspire many women to join her."