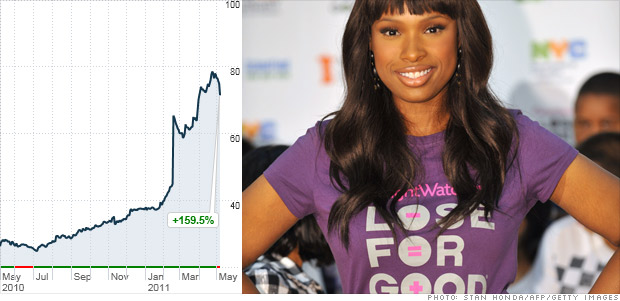 12-month return: 160%
2011 P/E: 21
Market cap: $6 billion
Thanks to a wildly successful marketing campaign featuring `American Idol' finalist Jennifer Hudson, Weight Watchers (WTW) has booked fatter profits and seen its stock more than double in value over the past 12 months.
Last week, the diet specialist reported a 65% jump in quarterly profit to $73.6 million, and raised its full-year guidance.
"[Jennifer Hudson] is very likable and did a great job with her weight loss," said Sam Diedo, portfolio manager of the Artio U.S. Smallcap Fund (JSCIX), in which Weight Watchers is the top holding. That makes her "a very powerful celebrity endorser."
Diedo says company will continue to benefit from its recently launched PointsPlus program and an overhauled website.
"If Weight Watchers can keep gaining market share and meeting earnings expectations, the stock should continue to outperform the market," Diedo said.
Analysts at Bank of America target the stock at $96 per share, up 34% from current levels.