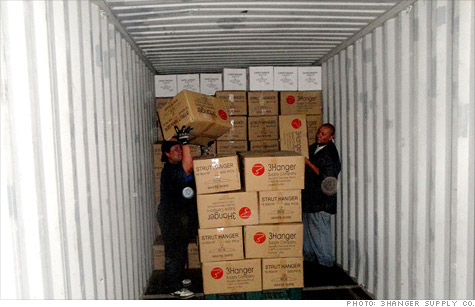 3Hanger Supply Company, one of the largest suppliers to dry cleaners on the West Coast, said it will nearly double prices to offset new duties on Vietnamese hangers.
NEW YORK (CNNMoney) -- If your weekly dry cleaning bill already has you cringing, brace yourself for more pain. As soon as your next pickup, prices may be higher.
It's all because of wire hangers. The hangers -- which are a big expense for dry cleaners -- are likely to get substantially costlier, after the U.S. imposed new trade penalties on hangers from Vietnam last week. In recent years, many American dry cleaners have come to rely on Vietnamese-made hangers.
Flora Yadegar, who operates four dry cleaners in California, expects her hanger costs to rise soon, forcing her to hike rates accordingly. Yadegar is already contemplating tacking on another 30 cents to 55 cents to the bill for cleaning a suit, pants or a shirt in coming days.
Because dry cleaning is a competitive businesses, Yadegar risks losing customers if she increases her prices. But she also needs to make payroll for her 30 employees.
Yadegar says the price of gas and hangers -- her two biggest monthly expenses after rent -- have risen in the last three years, squeezing profits. If she has to pay even more for hangers now, Yadegar isn't sure how her business will cope.
"Two dry cleaners in my neighborhood just closed. We are struggling with costs," she said. She knows raising prices will upset some customers, but "I have to do it," Yadegar added. "Otherwise how am I going to survive?"
Hanger suppliers say they're facing similar pressures, and with margins slim, they'll be forced to pass along any higher costs to their customers -- the dry cleaners.
Sam Monempour, vice president of 3Hanger Supply Company, where Yadegar buys hangers for her outlets, warns that the new duties will require him to nearly double his prices to 9 cents from 5 cents each. The company buys all its wire hangers from Vietnam, and he's pretty confident other suppliers that sell imported hangers will follow suit.
In recent years, Vietnam has become the top exporter of hangers to the U.S. In 2011, U.S. imported $31 million worth of Vietnamese hangers, up from $19.5 million in 2009, according to the Department of Commerce.
Vietnamese manufacturers have benefited from the rising cost of Chinese-made hangers, after the U.S. imposed punitive tariffs on them in 2008, said Monempour. Back then, the U.S. found that Chinese companies were "dumping" them at prices below production costs.
Now Vietnam faces trade penalties too. The Commerce Department Wednesday announced it will impose duties as high as 21% on hangers made in Vietnam after finding that its government was unfairly subsidizing wire hanger exports.
But that leaves wholesalers here with limited options. Monempour said the Vietnamese manufacturers he buys from recently stopped shipping to the U.S. in anticipation of the duties.
"I don't have any new shipments coming in right now," said Monempour, whose firm is one of the largest distributors of wire hangers on the West Coast. "I'm in big trouble if this continues."
If and when new shipments do arrive, the new duties will mean a higher bill for 3Hanger's customers, which include more than 1,500 dry cleaners, laundry services and hotels.
Dry cleaners typically go through 1,500 wire hangers every two to three weeks, said Monempour, and any price increase is bound to hurt.
With the dry cleaning industry already struggling, "the end result from this is that we will lose more shops if costs keep rising," he said.
Indeed, more than 4,000 dry cleaners already have disappeared in the last year as cleaning solvent prices have doubled and budget-conscious consumers have cut back, said Harry Kimmel, spokesman for the Dry Cleaning and Laundry Institute, an industry trade group.
After 30 years building her business, Yadegar isn't prepared to lose it all. So her customers better prepare themselves for a higher bill.
"I'm going to see how much more they are going to charge me for hangers before I raise my prices," she said. "But it will happen."
Did you start a business in a dangerous place? Not everyone goes to Main Street U.S.A. to fulfill their entrepreneurial dreams. Have you launched a successful business in a violent neighborhood? A hostile foreign land? A war zone? Or even just somewhere very remote that's hard to get supplies to? Tell us about it and you could be featured in a future CNNMoney story.