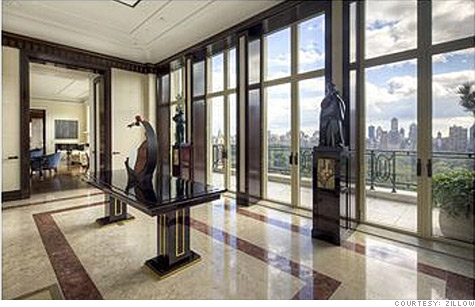 A Russian billionaire paid $88 million for a Manhattan condo earlier this year.
NEW YORK (CNNMoney) -- Lured by bargain home prices, foreign buyers stepped up their purchases of U.S. homes by 24% over the past year, according to an industry trade group.
The National Association of Realtors reported Monday that $82.4 billion worth of homes were sold to international buyers in the 12 months that ended in March, up from $66.4 billion the year before.
"Today's advantageous market conditions have drawn more and more foreign buyers to the U.S.," said NAR President Moe Veissi, who owns a real estate firm in Miami. (Related: Where homes prices are rising fastest)
U.S. prices have fallen by about a third from their 2006 peak and are at their lowest level since 2002, and foreign sales were especially strong in states where prices dropped even more sharply. Of the four states cited in the report as tops for foreign buyers -- Florida, California, Texas and Arizona -- only Texas has not recorded a severe home price correction.
Meanwhile, currency exchange rates grew more favorable for many foreign nationals. The currencies of both Mexico and Brazil have gained 20% or more against the dollar over the past year, giving buyers additional discounts on U.S. purchases. Canada's currency is up about 5%.
Foreigners participated in some of the year's biggest home buys.
A British buyer bought the Spelling mansion in the Holmby Hills section of Los Angeles last summer for $85 million. And in December, Russian billionaire businessman Dmitry Rybolovlev purchased an $88 million Manhattan condo for his 22-year-old college student daughter.
Holmby Hills and New York City are, of course, pricey markets -- but a bargain for the super rich compared to some foreign markets. For example, real estate in Hong Kong and London is about 50% more expensive, noted Edward Mermelstein, a New York-based real estate attorney.
Canada, China, Mexico, India and the United Kingdom accounted for 55% of international sales, according to the NAR survey. Of total sales, 24% were by Canadians and 11% by Chinese. Mexican buyers accounted for 8% of transactions.
The trend might have been even stronger except for the difficulties some international buyers had in obtaining financing. Many real estate agent reported that deals fell through because buyers lacked U.S. credit history.
Most completed deals involving foreign buyers were all-cash, accounting for 62% of foreign sales.