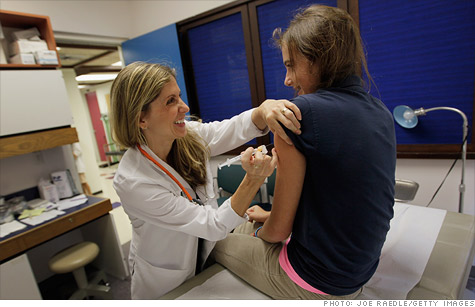 Sharply higher premiums, deductibles, and a slimmer roster of doctors are options that employers are considering for employees if health reform is struck down, or partially overturned.
NEW YORK (CNNMoney) -- How Corporate America will react if the Supreme Court overturns the landmark 2010 health care reform law is a big fat -- scary -- question mark.
And that leaves more than 160 million people who get their insurance directly through their employers in the dark.
The Supreme Court is expected to rule later this month -- maybe as soon as Monday. Industry experts say the justices could uphold the law, overturn it completely or overturn just some provisions.
In the meantime, the health insurance industry and consumers are bracing for a possible big change. Even though the law's main provisions don't kick in until 2014, several significant ones have already taken effect.
Earlier this week, a number of big health insurers, including two of the very largest -- UnitedHealthcare (UHC) and Humana (HUM, Fortune 500) -- committed to offering some provisions of health reform, such as coverage of adult dependents up to age 26, regardless of how the court rules.
But those commitments would only apply to the 15 million or so consumers who buy their insurance directly from insurers or work for businesses that do so.
A vastly larger pool of people get their insurance through employers that are "self insured," meaning they act just like an insurer. They create their own health care plans and set premiums and deductibles for their employees.
Premiums for employer-based coverage have already gone up 8% to 9% annually in the past few years.
And if the Supreme Court throws out the Affordable Care Act, there's a real risk that employees could see an "exponential jump" in premiums going forward, said Paul Keckley, executive director for Deloitte Center for Health Solutions.
Keckley, who consults for large self-insured companies, said a lot hinges on what happens to two of the law's critical provisions set to go into effect in 2014 -- creation of health insurance exchanges and establishment of the so-called individual mandate.
Many self-insured employers are looking at these exchanges, which are expected to offer a greater number of cheaper health plans, as a more economical alternative to providing workers health coverage, he said.
Also, with the individual mandate, everyone will have to have health coverage by 2014, or pay a fine. That also includes young people who generally tend to avoid it to save money.
Employers were banking on the individual mandate forcing more young healthy people to buy insurance, a trend that would help spread the risk for insurers and eventually bring down companies' health care costs.
"If the law is thrown out, these two provisions go out. Out goes two ways for employers to reduce their costs and companies will go to Plan B," said Keckley.
And consumers will face more than just higher premiums. Employers will even more aggressively push high-deductible plans, defined contribution plans such as HSAs, and further narrow the choice of network providers for employees as other ways to offset their costs, Keckley said.
At the same time, employers will probably continue to offer some of the same provisions that UnitedHealthcare has agreed to offer, such as free preventive care and the elimination of lifetime limits on how much an employer spends on a worker's medical care.
"These are popular mandates with consumers, but they also don't cost a lot for insurers," he said.
But don't count on employers committing to allowing workers to add adult dependents up to age 26 to their plans -- a provision of the law that has already taken effect.
"This provision is the most questionable," said Tracy Watts, senior health care consultant with benefits consulting firm Mercer. "Employers didn't offer this benefit before the law was passed and it has increased costs for them."
Watts agreed that most large employers will still probably continue to offer some of the other popular provisions, including no cost for preventive care.
If health reform is struck down, it's the smaller self-insured companies that will feel the cost burden the most, she said.
"[These] employers were hopeful that health reform would provide them with more economical ways to provide health care to employees," Watts said.
Have fears of losing health insurance held you back from quitting your job to launch a business? Email Jose Pagliery and share your story. Click here for the CNNMoney.com comment policy.