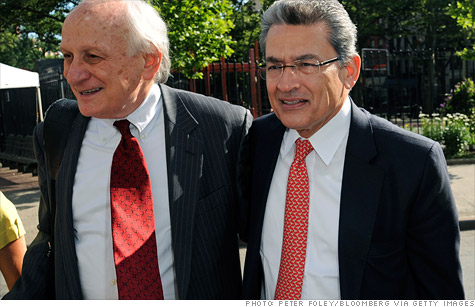 Rajat Gupta, right, was convicted of insider trading Friday.
NEW YORK (CNNMoney) -- Rajat Gupta, the consummate corporate insider and former director at Goldman Sachs, was found guilty of insider trading on Friday -- the highest-profile conviction yet in a wave of federal cases focused on Wall Street misconduct.
A federal jury in New York, after just over a day of deliberation, found Gupta guilty of four of six criminal counts. The trial started on May 21, and Gupta did not testify in his own defense.
The case was part of a wave of insider trading probes over the past two-and-a-half years that have yielded 66 indictments and 60 convictions. None of these defendants have been acquitted so far, though several cases are still pending.
Dubbed "Operation Perfect Hedge," the effort has used investigative tools like wiretaps and informants that are more commonly associated with other kinds of crime.
Wiretaps were first used to target insider trading in the case of Raj Rajaratnam, a friend of Gupta and the manager of hedge fund Galleon who received a record 11 years in prison last year after earning $64 million in a long-running insider trading scheme.
"Almost two years ago, we said that insider trading is rampant, and today's conviction puts that claim into stark relief," U.S. Attorney Preet Bharara said in a statement. "We will continue to pursue those who violate the securities laws, regardless of status, wealth, or influence."
Gupta's attorney Gary Naftalis said there would be an appeal.
"We believe the facts of this case demonstrate that Mr. Gupta is innocent of all these charges, and that he has always acted with honesty and integrity," Naftalis said in a statement. "This is only Round One."
Gupta, who also served as head of consulting firm McKinsey & Co. and a director at Procter & Gamble (PG, Fortune 500), was accused of passing inside information to Rajaratnam about Goldman and P&G.
Each of the three securities fraud charges he was convicted of carry maximum sentences of 20 years each. He was also found guilty of one count of conspiracy, which carries a five-year maximum. Sentencing is scheduled for Oct. 18, and he remains free on bail until then.
Judge Jed Rakoff, who will sentence Gupta, is well known for his harsh views of Wall Street misconduct.
In November Rakoff rejected a proposed $285 million mortgage securities fraud settlement between Citigroup (C, Fortune 500) and the Securities and Exchange Commission, saying the penalties and the fact that Citi did not admit to wrongdoing in the case made it too lenient. The SEC is appealing his rejection of that deal.
Judge Richard Holwell, who presided over Rajaratnam's case, said it's clear that sentences for insider trading cases are much harsher than they used to be. The 11 years he sentenced Rajaratnam is the longest on record, even though it was partly reduced due to his health problems, including the need for a kidney transplant.
"If you go back to the days of Michael Milken and Ivan Boesky [in the late 1980s], there a two to five year sentence was considered healthy," he said.
But Holwell adds that Gupta was convicted of a more narrow set of offenses than Rajaratnam.
Earlier this week former financier Allen Stanford was sentenced to 110 years in prison on Thursday for orchestrating a $7 billion Ponzi scheme. That's a bit less than the 150-year sentence given to Bernie Madoff three years ago for his even larger Ponzi scheme.
Prosecutors in the Gupta case argued that in one instance in fall 2008, Gupta called Rajaratnam just 16 seconds after disconnecting from a conference call in which Goldman's board approved a crucial $5 billion investment from Warren Buffett's Berkshire Hathaway (BRKA, Fortune 500).
Minutes later, Galleon purchased $27 million worth of Goldman (GS, Fortune 500) stock. In a conversation the next morning that was recorded secretly by the FBI, Rajaratnam told an associate that he had received a phone call ahead of the share purchase saying "something good might happen to Goldman."
When Goldman's shares jumped later that day on news of Buffett's investment, Galleon sold them at a profit of $840,000. Goldman Chairman and CEO Lloyd Blankfein was one of the witnesses called by prosecutors in the case.
Two of the three securities counts Gupta was convicted on were tied directly to this investment by Galleon, the third was another Goldman trade a month later. Prosecutors were unable to prove charges involving a 2007 Goldman investment and a January, 2009 trade of P&G stock.
-- Staff reporters Charles Riley and James O'Toole contributed to this report.