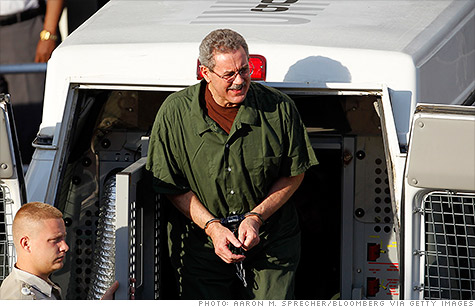 Convicted financier R. Allen Stanford arrives at the Bob Casey Federal Courthouse for sentencing in Houston, Texas, U.S., on Thursday, June 14, 2012.
NEW YORK (CNNMoney) -- Disgraced financier Allen Stanford was sentenced to 110 years in prison on Thursday for orchestrating a $7 billion fraud, one of the largest in U.S. history.
Prosecutors had called for the 62-year-old Stanford to receive the maximum sentence of 230 years in prison, calling him "a ruthless predator responsible for one of the most egregious frauds in history." The defense called for a sentence between 31 and 44 months, according to court filings, most or all of which Stanford would have already served.
By comparison, notorious Ponzi schemer Bernie Madoff, believed to have cheated his victims out of around $20 billion, received a 150-year jail term in 2009.
In March, Stanford was found guilty on 13 counts of fraud-related charges by a jury in Houston after a five-week trial.
Stanford surrendered to federal authorities in 2009 after being accused of orchestrating a massive fraud stretching two decades. Prosecutors charged that Stanford sold billions of dollars in certificates of deposit administered by Stanford International Bank Ltd., an offshore bank in Antigua, ensnaring thousands of victims.
Clients were told that these certificates of deposit averaged a rate of return 3-4% higher than U.S. CD's, and that the bank made safe investments in products like stocks and bonds. But in fact, prosecutors said, Stanford diverted the proceeds into personal ventures like real estate properties and failing businesses.
A significant portion of the money was also used to fund Stanford's lavish lifestyle, which included multiple homes in the Caribbean and the U.S. He was knighted in Antigua and sponsored a variety of golf tournaments and other sporting events.
"The sheer magnitude of the money stolen, the duration of the crime, and the extent to which Stanford lived a life steeped in deceit are almost unrivaled," prosecutors said in a court filing.
Stanford is appealing his conviction, and his lawyer, Ali Fazel, objected to the government's characterization of his client as a Ponzi schemer.
"We are obviously disappointed at the sentence," he said.
Stanford's victims have yet to receive any money, though the jury found that roughly $330 million in overseas accounts are proceeds of the fraud and should be returned.
"There's still no money in the picture," Stanford victim Doug Birdsong told reporters outside the court. "He's a predator -- he doesn't need to be out among people, because he would do the same thing again."
Stanford maintained his innocence throughout his trial. In a tearful 2009 interview, Stanford told ABC News: "I would die and go to hell if it's a Ponzi scheme."
While in custody in 2009, Stanford suffered a severe beating at the hands of a fellow inmate, and the trial was subsequently delayed as a result of his health problems.