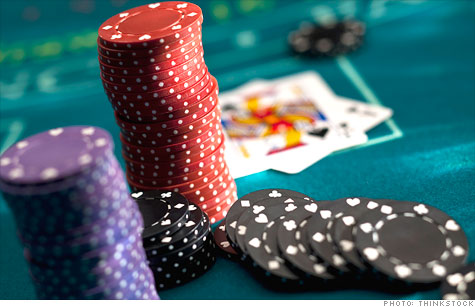 Raymond Bitar, CEO of online poker site Full Tilt, was arrested Monday in connection with a $430 million Ponzi scheme.
NEW YORK (CNNMoney) -- Federal law enforcement officials arrested Raymond Bitar, chief executive officer of online poker site Full Tilt Poker, on Monday in connection with a $430 million Ponzi scheme his site was accused of running last year.
Bitar voluntarily surrendered to authorities at John F. Kennedy International Airport as he returned from Full Tilt's headquarters in Ireland to face punishment for allegedly defrauding poker customers by lying to them about the security of their funds. He was charged with gambling, bank fraud and money laundering offenses.
As of June 2011, Full Tilt owed $300 million to players around the world but had only $6 million with which to pay them, according to the U.S. government. Officials said that he siphoned more than $430 million in gamblers' winnings to board members and owners.
"Bitar and Full Tilt Poker persisted in soliciting U.S. gamblers long after such conduct was outlawed," Janice K. Fedarcyk, assistant director-in-charge at the FBI, said in a statement. "Now he stands accused of defrauding Full Tilt's customers by concealing its cash-poor condition and paying off early creditors with deposits from later customers."
Bitar, 40, who was originally charged on April 15, 2011, appeared before U.S. Magistrate Judge Debra Freeman Monday afternoon. He is the seventh of 11 defendants charged in connection with the initial indictment to have been arrested. The others arrested have each pleaded guilty and await sentencing, with the exception of John Campos, who was sentenced to three months in prison last month.
"The indictment alleges how Bitar bluffed his player-customers and fixed the game against them as part of an international Ponzi scheme that left players empty-handed," Manhattan U.S. Attorney Preet Bharara said in a statement. "Bitar will now be held criminally responsible for the alleged multi-million fraud he perpetrated on his U.S. customers."
Bitar said in a statement that he has spent the last 15 months trying to find solutions for how to repay players, and that he understands why so many people are angry with him.
"I believe we are near the end of a very long road, and I will continue to do whatever is required to get the players repaid," he said. "I hope that it will happen soon."